Valentine's Day at Home – Easy Recipes with Simple Wine Pairings.
Let's face it.  Valentine's Day can be a pain if you don't know how to cook.  If you didn't make reservations ahead of time you could be stuck waiting for a table for a very long time.  I am here to save you… Not to mention if you eat at home you have more money to buy a better bottle of wine (yes… this is how my brain works… no… you shouldn't be surprised).  Here are a couple of recipes that won't break the bank, are easy to make.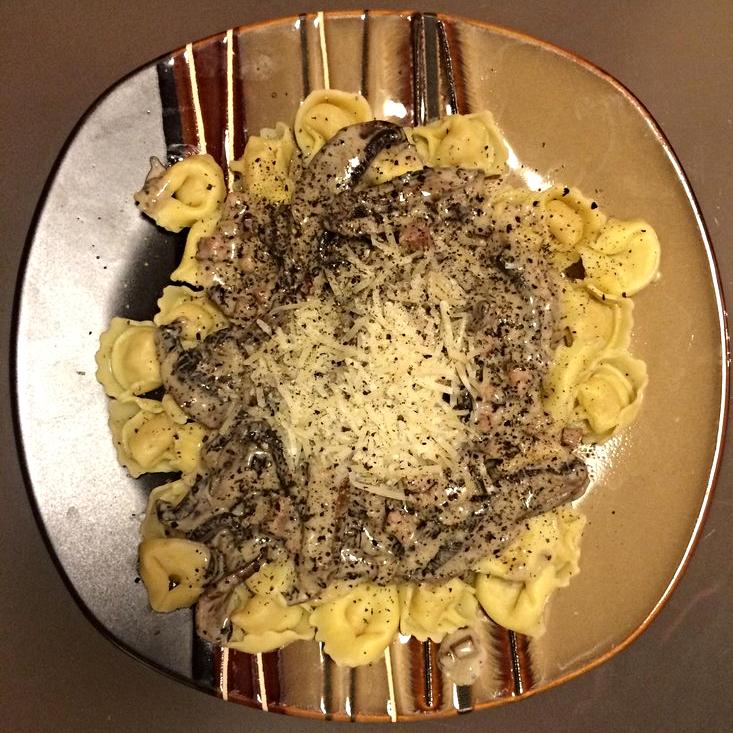 Portobello Mushroom and Double Smoked Bacon Pasta.
250 ML Cream
2 Tsp Dried Sage
75g Diced Double Smoked Bacon
2 Cloves of Garlic Minced
2 Portobello Mushrooms Thickly Sliced (3-5 mm)
2 Tbsp of Unsalted Butter
1 Tsp Flour
Salt and Pepper to Taste
In a skillet melt the butter on medium heat and add the garlic.  Cook garlic until fragrant (1 minute).  Add the Portobello Mushrooms to the mushroom and cook until they start to release their liquid.  Add the diced double-smoked bacon and cook until the bacon starts to brown.  Pour in Cream and turn heat down to medium low until the cream starts to simmer.  Sprinkle the flour on the sauce and mix it in.  It will thicken quickly so be ready to take it off the heat once it starts to thicken.
Serve on your favorite pasta.
This will make a great pairing for a big Chardonnay from Ontario, Burgundy or California.  The creamy texture of the wine will make a great partner to the creaminess of the sauce.  If you're serving Sparkling Wine as tends to be the case for Valentines this will match as well because of the bright acidity from the wine.
Wine List for Bacon Portobello Pasta
2011 Redstone Chardonnay – Vintages 398966 – $18.95 – ****
2012 Huff Estates Cuvée Janine Sparkling Rosé – $29.95 – ****
Simple Steak au Poivre with Roasted Matchsticked Potatoes
Steak and Sauce
1 Cup GOOD Red Wine
1 Cup Beef Stock
1/2 Chopped Shallot
2 Steaks
1 Tbsp Unsalted Butter
2 Tsp Flour
Matchsticked Potatoes
2 Potatoes Matchsticked
1 Tbsp Olive Oil
Salt and Pepper
1. Preheat Oven to 350° F.  Matchstick the potatoes and toss with olive oil.  Place on a baking sheet lined with parchment paper.  To cook potatoes evenly turn the potatoes with a spatula every 20 minutes.  They will take between 60-80 minutes to finish.
2. Chop Shallot in Half.  Remove outside skin.  Put into a pot with 1 cup of Beef Stock.  Put on the stove and reduce the stock by half.  While the stock is reducing season the steaks on both side with salt and then cover with freshly cracked pepper. (This step will be done to taste … I usually put enough pepper on the steaks so that they are completely covered in pepper.) When the stock is reduced remove and discard the shallot.
3. When the Potatoes are almost finished heat up an oven proof skillet on medium high heat.  Add 1 Tbsp Unsalted Butter.  Sear the steaks in the pan for 90 seconds on each side and place in the oven (which is still at 350°F).  Put the pan in the oven for 5 minutes.  Remove the steaks from the skillet and cover tightly with tin foil.  Return the skillet to the stove and add the reduced beef stock scraping up the brown bits from the bottom of the pan.  Add 1 Cup of Red Wine and let the sauce reduce by half.  Sprinkle in 2 tsp of flour to thicken the sauce.  Add more or less flour depending on how thick you would like the sauce.  Serve the Sauce over the Steak and Potatoes and serve with Mayo on the side for the potatoes.
This is a rich, heavy red meat meal.  Make sure that you are cooking with wine that you will be drinking… so this is the sort of meal that you may want to buy a second bottle when preparing.  I like using medium bodied wines for this recipe because the fruitiness of the wine really comes through in the sauce.
There are a lot of great options recently released in Vintages that would be perfect with this meal.
Wine List for Simple Steak au Poivre
2013 Calliope Figure Eight (British Columbia) – Vintages 324582 – $17.95 – ***1/2
2011 Kacaba Single Vineyard Cabernet Franc – Vintages 272146 – $18.95 – ***1/2+
2012 Featherstone Red Tail Merlot – Vintages 131540 – $19.95
2012 Fancy Farm Girl Flamboyant Red – Vintages 394080 – $14.95