Wine Review – Meldville 2nd Edition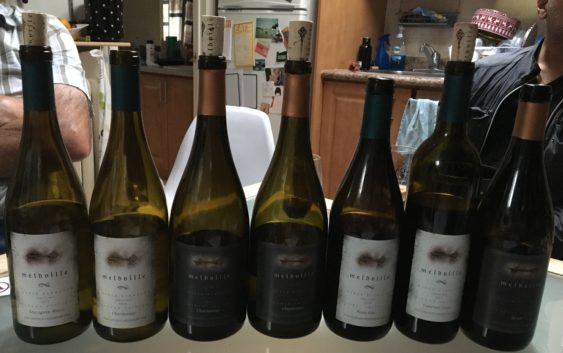 I recently had an opportunity to sit down with Derek Barnett to taste through some of the new wines coming out from Meldville. I was very pleased to find that the portfolio has grown by a few bottles since inception. The red wines are something to truly enjoy but the highlights are still in the white wines. The best part is that every bottle in the portfolio is less than thirty dollars.
2016 Sauvignon Blanc – $19.95 – ****+ – This is everything that's right about Sauvignon Blanc in Ontario. The aromas are passion fruit and have a nice citrus note mingling with the tropical. Your first sip will match the nose and begin to invade with nice weight but before becoming an invasion your mouth will be met with bright crisp acidity. The finish is crisp, clean and refreshing – this is like summer in a bottle. This is a wine that is begging to be paired with food and the bright acidity makes this incredibly food friendly – imagine this with anything from chicken to seafood.
2016 Chardonnay 2nd Edition – $19.95 – **** – This is a 100% barrel fermented bottle of Chardonnay – and certainly one of the best values in the province. The aromas have a nice vanilla note that is wrapped around baked peach and pineapple. This begins to conquer your palate with a nice round creaminess, but there is some nice restraint. Beautifully balanced acidity keeps this wine in check and lets a nice mineral note and a slight baking spice note linger on the finish.
2016 Canadian Oak Chardonnay – $27.00 – ****½ – It is exciting to see Canadian Oak in the lineup of Meldville wines. Derek Barnett masterfully used these barrels while working at Lailey on both Red and White wines. The nose is very rich and weighty as aromas of fresh peach and apple mesh with vanilla and spice in harmony. The concentration of this wine is incredible as the orchard fruit opens up on the palate and grabs hold. But then, out of nowhere racy acidity washes it all away leaving the finish incredibly clean.
2015 Barrel Select Chardonnay – $29.00 – ***** – This is one of the best Chardonnay's on the market right now – not just from Ontario, from anywhere. There is nothing subtle about this wine as everything is dialed up to eleven. (Please, imagine the rest of this tasting note is being SCREAMED at you) Pineapple, and peach pie feel like they are punching you in the nose and grabbing you by the face. This is so rich and heavy on the palate long after you have finished your first sip you'll still feel like you have some of this in your mouth. Flavours are pineapple, peach, orange, baking spice and vanilla. The finish on this wine brings a slightly smoky note and is so long it's practically an epic. Ringing in at just under thirty dollars this is outstanding value for a wine with such remarkable depth.
2016 Pinot Noir – $27.00 – **** – The nose is rich cherry with a chalky note. The tannin is still quite firm, so this could do with a little bit of time in a cellar or decanter to take the edge off if you're enjoying this in its youth. The palate offers cherry and cranberry with a nice vanilla note on the mid palate. There is a slight earthiness to the finish, but it's subtle as this wine tells a story of great fresh fruit. This finishes gracefully with nice acidity.
2015 Cabernet Franc – $27.00 – **** – This Cabernet Franc is a true return to form for Derek Barnett. While working at Lailey Derek masterfully crafted some of the finest and most age worthy bottles of Franc from the province. With a hint of bell pepper layered over red fruit this doesn't try to be Bordeaux nor is it Chinon … this is Ontario and it's very tasty. There is a nice vanilla note but it is very well integrated over the ripe fruit notes on the mid palate. This wine finishes with a nice cocoa note and very soft tannin. This should age for 5-7 years.
2016 Syrah – $27.00 – ****+ – The nose on this is interesting, young, and complex. The nose offers something smoky and meaty, this sits on top of ripe red fruit with a peppery note enveloping the whole package. With a little time in bottle this should settle down and begin to reveal some fruit. This is THE bottle of the Meldville portfolio if you're looking to pick up some bottles to stash away pick this! If you;'re a fan of Ontario Syrah … also, Pick This! Age for 5-15 years depending on how young you enjoy your Syrah. The tannin is approachable from the onset this won't take much time to enjoy in its youth.