Gewurztraminer and Dumplings – East meets East
I drink copious amounts of Riesling and Gewürztraminer year round.  I think because of our eating habits bright crisp wines get relegated to the patio.  I guess we don't think to crack open a nice chilled Gewurz in the middle of winter.  I come from the part of the country that would be considered part of the Perogy belt (essentially Winnipeg to Calgary).   The "Perogy Belt" is referred to as such because of all the Ukrainian immigrants who settled.  You can't drive through any small town in the prairies without finding a grocery store, a restaurant or a farmers market with someone's grandmothers perogies being sold.  I love a huge pile of perogies in the winter… served with saurkraut and kielbasa.  I love perogies even more when I can pair a great wine with them. Gewürztraminer and Riesling make a perfect match to your potato filled dumplings.  It doesn't matter whether it's German, Alsatian, or Canadian the bright crisp flavours and acidity from these wines help cut through the heavy starch and fat that you get from the perogies.  It is one of my favorite wine and food pairings.
Asian cuisine can be difficult to pair with wine.  Flavours are complex and especially with Chinese and Japanese foods ginger is generally one of the dominant flavours.  Don't be surprised if the ginger doesn't jive with your full bodied Red.  You need something with high acidity to help cut through the cacophony of spice and cleanse the palate while you eat and drink.  Riesling and Pinot Gris are good matches … but Gewürztraminer is the champion of Japanese and Chinese cuisine.  The floral and tropical flavours that you find in Gewürztraminer make a perfect partner to the ginger, anise, sesame, white pepper, garlic … etc…
I had a chance to dive into some great Gew and do an east meets east dumpling night.  I served up Potato, Cheddar and Bacon Perogies fried with Bacon Bits and Ontion and my friends Yvonne Tsui (www.th3hungrycat.ca) and Joey Ma served up Chinese dumplings that were both boiled and steamed.  In the night of Eastern Europe meets Far East it was interesting to see how all the foods on the table went with Gew of a few different styles.
Here are the wines from the night: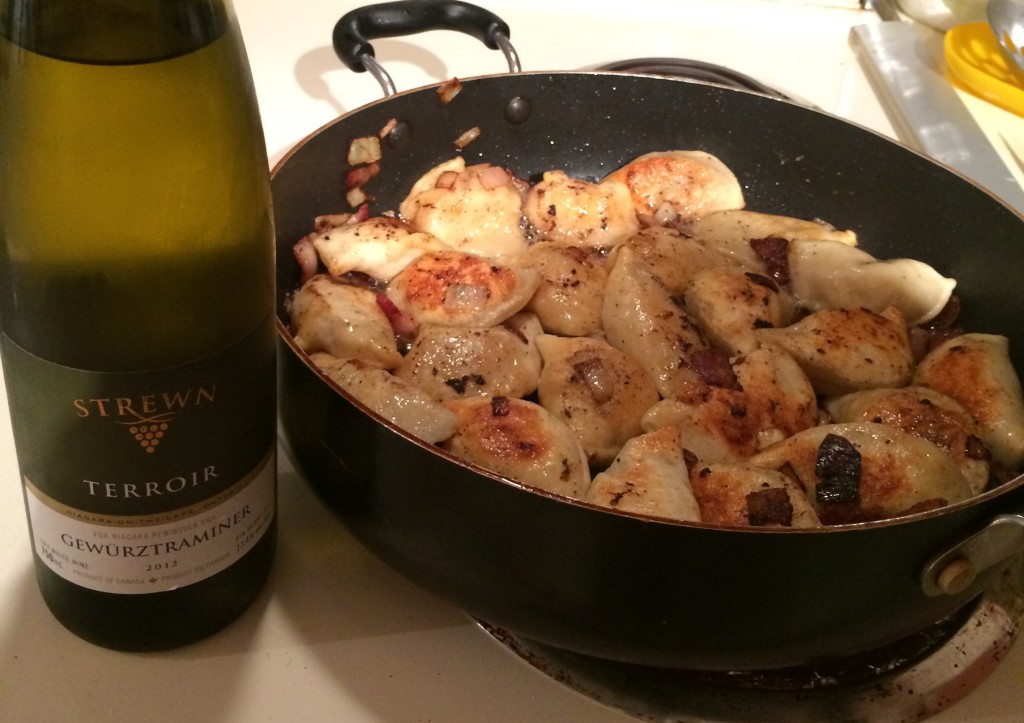 2012 Strewn Terroir Gewürztraminer – SOLD OUT (2013 Available from www.strewnwinery.com for $19.15) – ****+ – Beautiful aromas of Rose and Peaches with flavours to match.  This wine was poured by Strewn at Cuvée in 2013 and it is still drinking beautifully.  The interesting thing about Gew is that there is nice acidity on the finish of this wine but the floral notes of this wine fill your entire mouth long after the wine is gone.  Strewn make some of the best Gew in the province so make sure you check out the 2013 vintage.
2013 Stiftskellerei neustift abbazia di novacella Gewürztraminer – ****+ – This was an oddity that showed up at the table.  This wine is from Italy, and it is a beautiful Alsatian style Gew.  This has a beautiful oily texture on the palate that lets the flavours linger for a long time.  If this were tasted blind there is no way I would have guessed that this wine was Italian.
2013 Josef Drathen Gewürztraminer Kabinett – LCBO 394601 – $12.60 – **** – Compared to the Strewn and Stiftskellerei Neustift this wine was bright, light and crisp.  Flavours of Rose were present, but not overpowering.  There are also nice flavours of peach and lime with refreshing acidity and a clean finish to this wine.  Well priced so you can pick up a few bottles to sip on during the summer on a patio and keep a bottle aside for when it cools off in the fall and it's time for dumplings again.
2013 Hidden Bench Select Late Harvest Gewürztraminer – $30.00 (Available from www.hiddenbench.com)- ****+ – This is a very well put together late harvest.  It holds on to some of the floral characteristics that you would expect from Gewurz but has a very nice sweetness with good acidity.  This was the perfect way to finish off the wines.  It went perfectly with the Perogies because of the salt from the bacon both in the dumplings and in the frying pan.  This wine makes a great sipper on it's own.
If you decide to spend an afternoon cooking here is the recipe for perogies courtesy of my Great Auntie Carrie Meier.
2 Cups Flour
1 Tsp Salt
1 Egg
1/2 Cup of Cool Potato Water
1/2 Cup Cold Mashed Potatoes Cooled (just take the potatoes boil them and mash them … don't make mashed potatoes like you would for Thanksgiving)
1 Tbsp Oil
Mix Flour and Salt in a deep bowl.  Add the egg, mashed potato and oil and enough water to make a medium soft dough.  Knead on a floured surface until smooth.  Be careful not to overknead or your dough will end up tough.  Divide into 2 parts and let stand for 10 minutes.  Roll dough on a floured surface very thin then fill and cut.
For filling you can go crazy!  I like making Potato, Cheddar and Bacon I don't have a recipe to share … basically mix up mashed potatoes with grated cheese and cooked bacon bits to the ratio that you like.
The chinese dumpling recipe comes courtesy of Yvonne and is as follows.
1lb each of lean and regular ground pork
1 teaspoon cornstarch
2 egg whites
1-1/2 teaspoon salt
1/2 teaspoon sugar
1/2 teaspoon sesame oil
1 teaspoon ground white pepper
1 medium head of Napa cabbage, shredded
1 piece of dried woodear mushroom about the size of your palm, rehydrated in water
400g of peeled and deveined shrimp, defrosted
1 bulb of scallion, sliced thinly
1 package of dumpling wrappers (新安 brand is the best, the packaging is blue)
Bring pot of water to boil. Add woodear mushroom. Cook until al dente. Strain water and let cool. Once cool enough to handle, slice thinly (like matchsticks)
Smash shrimp into paste, combine with ground pork.

Mix in cornstarch, egg whites, salt, ground white pepper, sugar and sesame oil until well combined

Add shredded cabbage. Mix.
Prepare a bowl of lukewarm water to seal dumplings.
Put about a half teaspoon filling onto each dumpling wrapper. Dip finger into water and wet border of dumpling on half the wrapper (semi circle). Press together to seal. There are many ways to find dumplings. Check YouTube for instructional videos.
But considering how fast people inhale these I wouldn't spend too much time folding them the fancy ways.