The week of April 11th California came to town. The California Wine Fair took place on April 11th and it continues to be one of my most anticipated wine tastings of the year. This year was no exception. I attended the consumer event that took place in the evening. There are more wines in the room than it is possible to taste even if you try really hard. I think as a lover of California wine one thing to keep your eyes open for for the next few years is the rise of Sauvignon Blanc. New Zealand has been on top of their game with Sauvignon Blanc and people love it. It's only a matter of time before we see people starting to explore other regions and California offers some really great examples of Sauv Blanc.
When you attend a walk around tasting it's rare to have one single wine that stands out. For me it was easily the 2014 Lilo Vineyard Pinot Noir from Birichino. I have stated that California Pinot isn't really my thing. It's generally a style of winemaking that gives you big, bold flavours with a heavy texture. The Lilo Vineyard Pinot brings to the glass an elegance I have never encountered in a California Pinot. Fruit driven with lots of Dark Cherry, and Raspberry with beautifully balanced acidity. This wine is available through www.trialto.com
The following evening I attended a dinner that offered up some value wines. I only feel the need to make the distinction because at the Wine fair you will find a lot of rare and expensive gems that for most people it just isn't in the budget to drink on a regular basis. Select Wines offered us wines from Sebastiani, Pepperwood, Aquinas, and Gnarly Head. There was some debate around the table about how well the wines went with the food. Rather than pick the entire meal apart highlight pairings were Ceviche paired with Sebastiani Chardonnay, Dry Aged Hanger Steak with Gnarly Head Old Vine Zinfandel, and Gnarly Head Cabernet Sauvignon paired with Ribs, Brisket and Buttermilk Fried Chicken.
2013 Sebastiani Chardonnay – LCBO 364497 – $19.80 – ***1/2+ – Bright and crisp are not what you would generally expect from a Californian Chardonnay but this fits the bill. Bright citrus notes with just a slight hint of vanilla on the nose. This is a fruit driven wine with Oak aging taking a backseat to flavours matching the nose with apple and roasted pineapple on the palate for good measure.
2013 Pepperwood Grove Old Vine Zinfandel – LCBO 308163 – $13.95 – ***1/2+ – This bottle delivers terrific value. It's straightforward and textbook Zinfandel. Rich Plum, Blueberry and Blackberry with subtle spice notes. While no one will accuse this wine of being a complex Zinfandel it delivers exactly what you would expect when opening the bottle. This will make a great addition to any summer barbeque.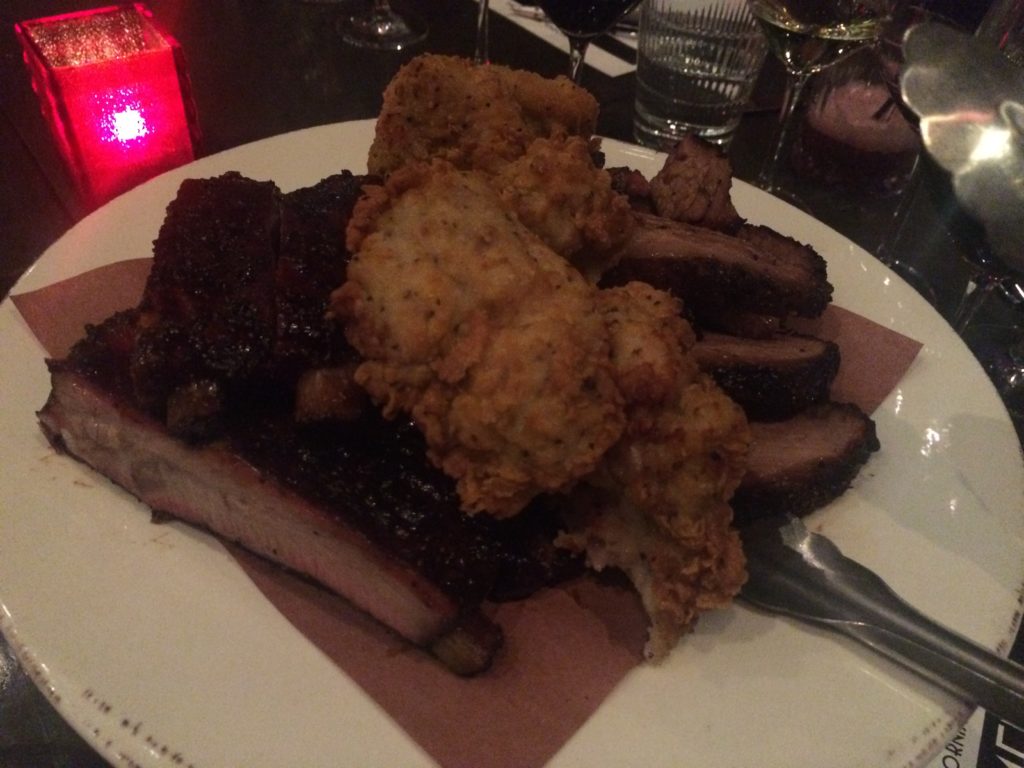 2013 Gnarly Head Cabernet Sauvignon – LCBO 68924 – $14.95 – ***1/2 – Fruit driven and smooth on the finish. The thing about this bottle of California Cab is that it offers only a whisper of the real thing. The fruit is ripe and warm just as you would expect from California. The tannin is very soft and smooth on the finish. This is straightforward easy drinking wine. This will make a great addition to summer barbeque or paired with pasta and tomato sauce.