2014 Dirty Laundry Merlot – 2013 Charles Baker Piccone Vineyard Riesling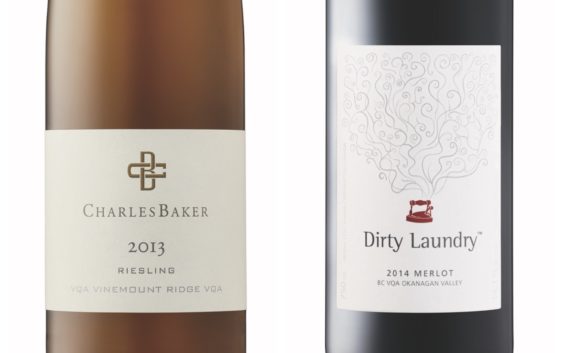 2013 Charles Baker Piccone Vineyard Riesling – Vintages 241182 – $35.20 – ****+ – I have a hard time ageing white wines in my home. The problem with Riesling is that while it does have fantastic ageing potential, it offers so much in it's youth. I recognize Riesling north of thirty dollars is at a price point where you may thing twice about gulping down a bottle on a Friday night, but that's not a bad thing. This bottle is fantastically approachable in its youth with great balance between acidity and sweetness. The fruit flavours visit the orchard with a nice apple and pear note before moving to citrus. The beautiful mineral note goes from nose to finish and lingers for a moment. So, as I said… I'm sure this wine has fantastic ageing potential but I doubt I'll be able to hold onto any bottles because it's drinking great right now.
2014 Dirty Laundry Merlot – Vintages 366179 – $25.95 – ****+ – Merlot from the south end of the Okanagan is quickly becoming one of my favorite things. The bordeaux varietals from BC offer something that is very ripe, pushing into jammy fruit but manage to retain their acidity and balance. The aromas in this bottle are strawberry, raspberry and cherry jam. When you take your first sip the fruit opens up on the palate and fills your mouth with these rich fruit flavours. Your second sip offers a little more depth with a nice cocoa note and then the tannin starts to take hold and grip the back of the palate. When you open this in your home I would let it sit for an hour before pouring to let it relax a bit. For twenty five dollars this offers exceptional value and will make a great pair to grilled red meats.