Winery Visit – Norman Hardie Spring 2017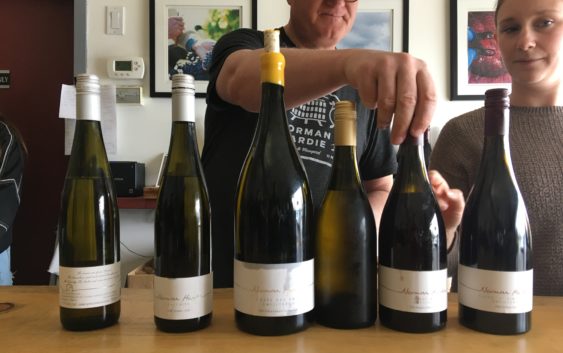 A spring visit to Norman Hardie is something I always look forward to. The next couple years County Chardonnay and Pinot Noir will be in short supply, but there is nothing to be worried about if you're a fan of Norm's wines. The "entry level" bottles have never been better with strong offerings of Riesling, Calcaire and Gamay.
The day that I visited Norm's was in the middle of our very wet spring. The entrance to the winery was very secure is the ditch was fully functional as a moat. The pizza oven was fired and ready. Huddled in the production facility I was shoulder to shoulder with a couple from Australia who had heard of the wines from Norman Hardie. Regardless of rain or shine one of the best pizzas in the province can still be found at Norms.
2015 County Pinot Gris – $29.00 – ***½ – Everything about this wine is restrained and subtle. There is no doubt that in the County Chardonnay and Pinot Noir are king. But it's nice to see other varietals hitting the shelves made with County Fruit. The aromas offer a bright mineral note that soars over Granny Smith apple. The flavours match the aromas with restrained subtlety. There is a nice roundness to this wine on the mid palate – that is really the story about this wine. You don't always need to be kicked in the mouth with over the top flavours… sometimes restraint and texture go a long way.
2016 Riesling – $21.00 – **** – Straight up, this is the best vintage of Riesling I have ever tasted from Norm. This has beautiful balance, but also a nice depth of flavour. This is made with 30% County Fruit and 70% Niagara Fruit. There is a slight funkiness to the nose that is layered over apple and citrus. There is a slight sweetness on the mid palate but it is met with nicely balanced acidity. Something unusual is a slight spicy note that brings up the finish.
2016 Calcaire – $23.00 – **** – The Calcaire has always been something I have had a hard time wrapping my head around. This is a bottle that is designed to pair with food, more specifically fresh seafood. The bright acidity is a perfect match to freshly shucked oysters. In previous vintages Calcaire was bright citrus and it felt like pretty much it. This vintage offers some nice orchard fruit that is mated perfectly with the citrus flavours. There is a nice mineral note that brings up the finish, making this wine gulpable even without food.
2014 Cuvée Des Amis Chardonnay – $150.00 magnum – ***** – I always look forward to the Chardonnay from Norm. Whether it's Niagara, County or some of the other labels that don't often see the light of day I look forward to each new Chardonnay with anticipation. I shouldn't say I was surprised at the quality and depth of this wine, but the intensity and balance of every single part of this wine is breathtaking. This is very rich on the mid palate but finishes light with a long elegant finish. With orchard fruit, citrus, caramel and a nice mineral note that goes from start to finish.
2014 County Chardonnay – $45.00 – ****½ – The funkiness to this wine feels so comfortable, it's like coming home. There is a nice mix of apple and baking spice on the nose. This wine opens up with nice intensity on the mid palate and has some nice weight to it. The flavours match the nose and bring in a nice mineral note as the wine starts to finish. The finish is long to this wine and leaves with a bit of spice and some of the funkiness from the nose.
2015 Chardonnay – $39.20 – ****½ – There is a nice whisper of vanilla that rises out of the glass and envelopes a nice apple and subtle peach aromas. In spite of the intensity from the fruit and vanilla note, the mineral note is not overpowered by any of this. There is a nice weight to this wine but it is met with nice acidity to help make sure that the mineral note stays front and center.
2015 Niagara Pinot Noir – $45.20 – ****½ – The concentration of aromas and flavours in this wine is incredible. Beautiful aromas of dried violet and dark cherry. When you take your first sip the fruit moves from dark to lighter and more fresh. This may be the best vintage of Niagara Pinot that I have ever tasted from Norm. The finish on this wine is the definition of elegance where concentration meets perfect acidity. Each sip of this wine will have you begging for the next sip.