Wine Reviews – Megalomaniac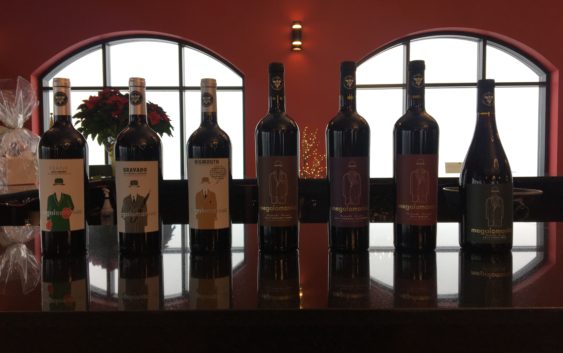 My last trip to Niagara in 2017 included a stop at Megalomaniac. THIS is the visit I have been waiting for as the wines that are currently available at Megalomaniac are the first that have been made start to finish by Winemaker Sebastian Jacquey. The white wines available over the past couple vintages have been exciting, and it has been interesting to see what Sebastian has done with Riesling. But, John Howard has staked his wineries reputation on producing Bordeaux varietals. So how do things look from the 2015 vintage?
First, if you haven't been to Megalomaniac in a while you will notice that the portfolio has gotten a little deeper. A few years ago you could expect to find the Bordeaux varietials, Riesling, and Savagnin. You can now find Chardonnay, Gamay, Pinot Noir and a pair of Sparkling Wines to join the Cabernet Sauvignon, Cabernet Franc, and Merlot. *I realize that these wines have all made appearances in the portfolio before, but it would seem that they are now a permanent part of the lineup. If anything this winery has always had something for everyone … it's just more so now.
2015 My Way Chardonnay – $24.95 – **** – This is a welcome addition to the landscape of Chardonnay in the province. The aromas offer a nice vanilla and spice note layered over apple. This has some nice depth and weight on the palate, but stays light on its feet thanks to balanced acidity on the finish.
2016 Eccentric Savagnin – $32.95 – **** – It's great that we have a few wineries that work with these unique grapes (Kew with Marsanne comes to mind), it's interesting because you can't really compare this to anything else in the province. The important thing is that this wine tastes good – and this one does. Orange and grapefruit Zest make an appearance and on the palate this opens up with a nice grassiness and clean acidity. 7 months on lees give it a bit of weight and texture but this finishes clean and bone dry.
2016 Avant Garde Gamay – $24.95 – **** – The fruit comes from St David's Bench and has spent 10 months in French oak. This has some weight and concentration to it. There is nice pepper and cherry but it's the concentration on the palate that makes this interesting. It would seem that Ontario is really in the process of developing their own identity with this grape. We can confidently say that we are not trying to be Beaujolais, we've got our own thing going on. The tannin is approachable but with enough grip that I expect this to evolve nicely over the next 3-7 years in a cellar with ease.
2015 Bravado Cabernet Sauvignon – **** – $34.95 – Cedar and red pepper jelly are the first things I notice when it climbs out of the glass. While there is the savory note on the nose on the palate there is a clear reminder that we had a nice warm fall in 2015 as this is a lot of dark fruit – plum, and blackberry. The tannin is tight and firm but it will soften after a couple years in a cellar. If you have the patience this should mellow out nicely over the next 3-8 years.
2015 Frank Cabernet (Franc) – **** – $27.95 – The nose offers mint or eucalyptus – it's savory but it speaks to a warmer summer. The fruit is blackberry, black currant and blueberry. The tannin is firm and tight but this should relax with an hour in a decanter or a few years in a cellar. This offers great value for a bottle that belongs in a cellar. It's been a few years since Frank has been this good and it's worth going out of your way to grab a bottle.
2015 Big Mouth Merlot – ****½ – $34.95 – I wanted to savor the aroma of this wine all day. There is soft vanilla layered over strawberry, and cherry. The flavours match the nose and bring nice concentrated red fruit to the glass. The tannin is approachable but should relax even more over the next few years in a cellar. The aging potential in this bottle is fantastic if you wanted to keep a bottle or two around for 10-15 years.
2015 Bespoke Series Merlot – ****+ – $59.95 – Cocoa and smoke lead the charge on the nose. This is tight and closed off but there is some fruit buried under its own youth. Patience though, this wine requires patience. Expect a couple hours in a decanter or 5-15 years in a cellar before this bottle reveals it's true glory. I realize this is a little pricey, so that may be a deterrent, but it is worth grabbing at least a bottle to see how great Merlot can taste in Ontario.
2015 Bespoke Series Cabernet Franc – ****½ – $49.95 – I have a soft spot for the Cabernet Franc from Megalomaniac, it's always so damned good. Pencil shaving and perfectly ripe fruit on the nose. The flavours offer nice smoke, pencil shaving and lots of raspberry, blackberry, and plum. The tannin is approachable but this has nice aging potential and expect to find a bottle or two of this in my cellar for 5-15 years.
2015 Bespoke Series Cabernet Sauvignon – ****+ – $59.95 – Rich cassis and nice smoke climb out of the glass with nice intensity. This opens up with nice weight on the mi palate and texture as the fruit just opens right up. Flavours are blackberry, currant and raspberry. Tannin is approachable now, but as with its siblings in the bespoke series you can hold this for 15 years in a cellar.