Wine Review – Chardonnay from Flat Rock Cellars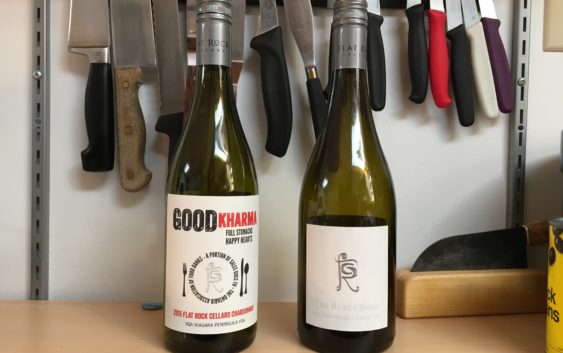 2014 Flat Rock the Rusty Shed Chardonnay – Vintages 1552 – $26.95 – ****½ – This is awesome! When you put your first sip in your mouth it goes from cream corn, to pineapple, to vanilla, to orange, to peach – the depth to this wine is outstanding. What's great is also a very nice concentration of flavours. Great acidity to this bottle keeps it from sitting too heavy on the palate and keeps it nicely balanced. The incredible depth to this Chardonnay only adds to the great value.
2015 Flat Rock Good Kharma Chardonnay – LCBO 356873 – $16.95 – **** – Whenever you find me making creamy pasta (or being less fancy any of my grandmothers recipes using Mushroom soup as a base) you will find a great bottle of Chardonnay on my table. This bottle is a staple in my house, and a benchmark wine for the province. The nose is apple with a nice vanilla note and the flavours match. The finish is clean with nice acidity making this extremely food friendly.