If you go to any winery in Ontario and ask about Thomas, the winery staff know that you are asking about Thomas Bachelder. Owner and winemaker of his eponymous wine label but known for his work at Le Clos Jordanne, Domaine Queylus and 16 Mile… I'm sure I am forgetting about a place or two. Needless to say Thomas is very busy and his reputation precedes him.
Thomas Bachelder was the winemaker at Lemelson Vineyards from 1999 to 2002. This was my first stop on my visit to Oregon. When I asked about Thomas they knew who I was talking about. Winemaker Matt Wenger told me that Thomas had a hand in selecting him for the job of making the wines at Lemelson.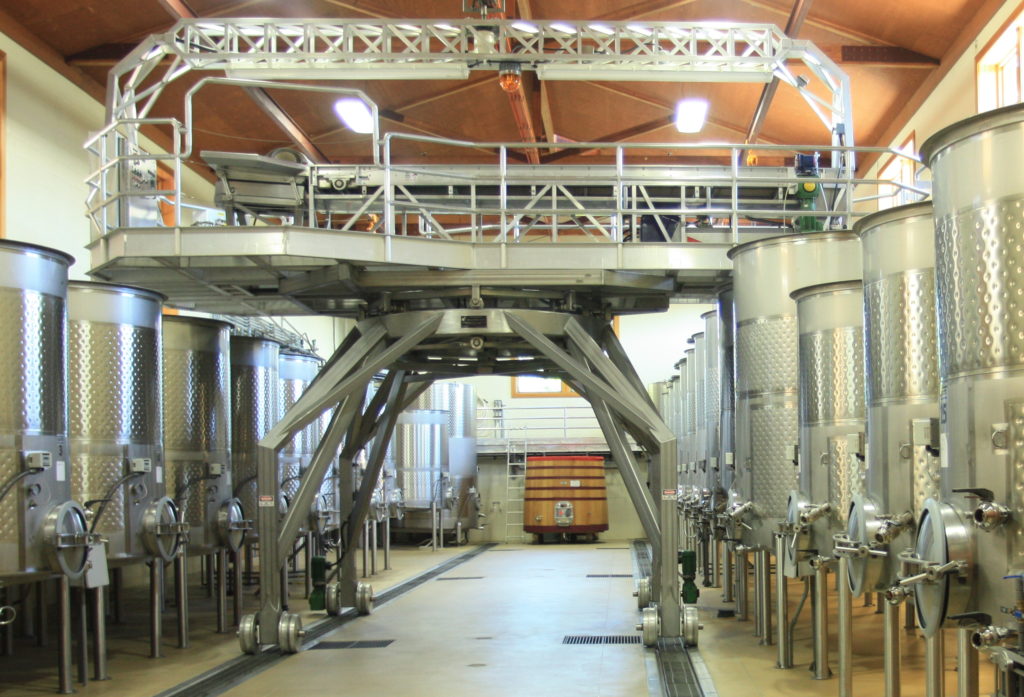 The facility is an impressive gravity flow winery that sinks deep in the ground. When you walk down to the barrel cellars it feels a little like the last scene in Raiders of the Lost Ark. When you head off the crush pad and into the main production floor you're in a whole different movie. The moveable sorting table is named Enterprise and looks like something from Star Trek. Lemelson have gone through great lengths to be as gentle as possible with the fruit before it even makes it to the tank.
The idea behind gravity flow is to treat the fruit and juice as gently as possible and to keep it away from pumps and basically any steps that might put some stress on the fruit. When I stopped by for my visit the portfolio at Lemelson had four different Pinot Noirs for sale. I was fortunate enough to taste several more in the cellar. Needless to say the care taken to treat the fruit gently comes through in the bottle. You have some of the most delicate and elegant Pinot Noir I have ever tasted. If you're heading to Oregon make sure you include Lemelson on your list of stops.
2014 Riesling – $19.00USD – **** – This was my introduction to Oregonian Riesling. Ask any vineyard manager in Oregon what clones they have planted in their vineyards and they know exactly what clones of Pinot Gris, Pinot Noir, and Chardonnay. Now when it comes to Riesling, this was the first of many vineyards where the wineries had no idea what they had in their vineyards. The cool climate status of Oregon is apparent in the Riesling. The acidity is beautifully balanced and the bottle from Lemelson has a slight hit of sweetness on the finish, but this wine is still dry. There is a nice mineral note that goes from nose to finish in this bottle and a lot of nice citrus notes.
2013 Reserve Chardonnay – $30.00USD – **** – This is another line on the resume for great cool climate wine in Oregon. The aromas on this wine are apples and spice. There is something a little delicate about the aromas but once you take your first sip you are greeted with nice concentration of orchard fruit – apples and pears. There is a nice creamy mouthfeel but nice acidity keeps the palate refreshed and in anticipation of the next sip.
2013 Thea's Selection Pinot Noir – $30.00USD – ****+ – This is the entry level Pinot Noir for Lemelson. This is an outstanding Pinot Noir and even at this price it's great value. The nose offers up woodsmoke, ripe cherry and raspberry. When this hits your palate there is so much depth to this wine it's like it permeates every part of your mouth. This wine is velvet smooth on the finish with fruit that lingers.
2013 Chestnut Hill Pinot Noir – $54.00USD – ****+ – There is a nice floral note that sings over all the fruit and smoke in this bottle. The floral note on this wine really tells the story as it moves from nose to palate. There is nice rich Cherry and Plum to this wine but the Violet note opens up on the mid palate and sticks around after this wine leaves.
2014 Chestnut Hill Pinot Noir – $54.00USD – ****½ – There is something about this wine that feels like everything is turned up to eleven. It's rich and concentrated on the nose and on the palate. Somehow this remains elegant and refined. This is all cherry with slight smoke but it all hits you at the same time. Make sure when you sip you take a moment to reflect on what's in your mouth.
2014 Meyer Vineyard Pinot Noir – $48.00USD – ****½ – The floral note from the Chestnut Hill vineyard is absent from this wine, but that's okay … it doesn't need to attend this party. There is so much ripe red fruit that moves right to the edge of being cooked but walks that tightrope and stays juicy and elegant. This is very refined – somehow it's soft on the palate but concentrated at the same time.
2013 Jerome Reserve Pinot Noir – $60.00USD – ***** – This is so smooth, elegant, and easy drinking it almost leaves me speechless. There is a nice earthiness to this wine – This is just another layer of depth in a well rounded portfolio at this winery. You get Earth, Smoke, Cherry, Raspberry, Plum and a nice Floral note that envelopes the whole wine. These notes work its way through from nose to finish. This is one of those wines that is truly meant to savour and ponder before swallowing.