Event – Into The Vine #VQAIntoTheVine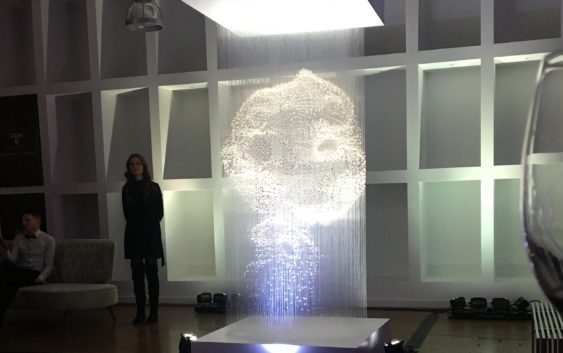 This past weekend Ontario wine arrived into the city of Toronto with remarkable flair. Into the Vine was presented by Wine Country Ontario and Toronto Life as a "deconstructed" look at tasting wine. I'm not sure I knew what a deconstructed approach to wine tasting would look like but I was intrigued.
Let's face it when we talk about wine and experience it's almost always about pairing a bottle of wine with a perfect meal. I think we take it for granted that the experience that surrounds opening a bottle of wine goes beyond what's on your table but also who is around your table. So, when I arrived at Into The Vine I was stunned to see how well six contemporary artists had wine paired with their artwork. What an interesting way to sip wine – to be admiring a piece of artwork that matches with the wine in your hand.
I'm staring at a bonfire made with incandescent light bulbs created by Atomic 3 and I can imagine the slight woodsmoke coming off the flame as I'm enjoying a sip of Westcott Chardonnay. I move further into the room and I see a giant monster made of flowers created by Studio F Minus to represent riesling. Further into the gallery a show stopping piece of art is a cloud made of pearls to represent Sparkling wine. This beautiful piece of artwork was created by Xiaojing Yan and a very interesting way to visually represent the wines. The other grapes that were represented and paired with artwork were Gamay, Pinot Noir and Cabernet Franc.
With a thirty dollar price of admission you had an opportunity to taste through 12 wines at the event. The wineries pouring changed from day to day, as did the wines. So if you decided to attend more than once the experience would be a little different. It's really too bad that this event was only running for a weekend. We need more wine events like this in the city of Toronto. This was accessible, unpretentious, and the well curated. This was one of the coolest wine events I have ever attended and I hope we see more wine and art in the city soon.
You can see some more photos by checking out my instagram feed and Wine Country Ontario's feed or by searching #VQAIntothevine