2015 Flat Rock Unplugged Chardonnay – 2012 Stratus Red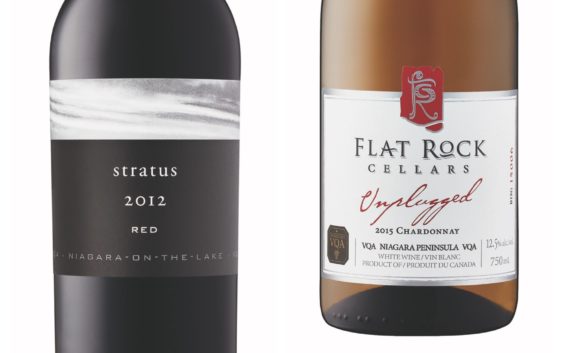 2015 Flat Rock Unplugged Chardonnay – Vintages 68015 – $16.00 – ***½+ – As far as unoaked Chardonnay from Ontario goes there is something a little magical about this wine. The nose is bright, fresh and clean with lemon and lime notes and a potent mineral note that sails over the fruit and pulls this wine together like the rug in the room of the Big Lebowski. This sits on the palate with a near-creaminess… but with the lack of oak it's not too heavy. There is no vanilla or spice in this bottle but it's not a bad thing. This is a perfect food friendly wine to match with fish or chicken.
2012 Stratus Red – Vintages 131037 – $44.20 – ****½ – This bottle is an infant and not ready to be enjoyed just yet if you pop the cork and start sipping right away. The structure and complexity of this wine pushes what is possible from what might end up in your cellar from Ontario. The nose brings up aromas of vanilla that sits heavy over everything else in the bottle … but give your glass a swirl and you find some heavy black currant, blackberry, and blueberry. The concentration of fruit in this wine is unbelievable and to boot you start getting hints of woodsmoke and spice that bring up the finish. I plan on keeping a few bottles around for 5-10 years because I want to enjoy this young… but expect this to develop nicely for well beyond that.