Winery Profile – 16 Mile (April 2015)
16 Mile is a winery you probably haven't heard of but I assure you that in the very near future you will.  The wines bear names like Rebel and Incivility as a nod to owner Joseph Groia's battle against Incivility charges from the Law Society of Upper Canada.  The winery started in 2010 with the wines being made by Thomas Bachelder.  In 2013 winemaking duties moved to Regan Kapach who comes to 16 mile via Southbrook.  There is no shortage of talent from the winemaking team at 16 mile.
2011 Rebel Chardonnay – ****+ – $19.95 – Perfectly balanced spice and vanilla notes move to citrus and pineapple flavours.  The barrel flavours give this wine a lot of complexity without overpowering.  Drinking fantastic right now and straight forward buy this and drink it right away.
2011 Civility Chardonnay – ****1/2 – $24.95 – A beautiful expression from the cooler 2011 summer.  The nose is Vanilla and Apple.  Once you get into the glass you have Peach, Apple, Vanilla and Baking Spice on the finish.  To wrap up the whole package you have perfect acidity.  At the price this is a steal!  This is one of the most undervalued wines I have ever tasted.  Drinking great right now but will age gracefully for a few years in your cellar.
2012 Civility Chardonnay – ****1/2 – $24.95 – The warmth of the 2012 summer really comes through in this Chardonnay.  There are loads of Peach, Pear and Apple in this wine and it really stands on top of beautiful layers of butterscotch and vanilla with nice subtle baking spice on the finish.  This is a gorgeous follow up to the 2011 vintage offering a little more complexity to the wine.  This is perfectly balanced all around drinking great right now but should age for a few years in your cellar.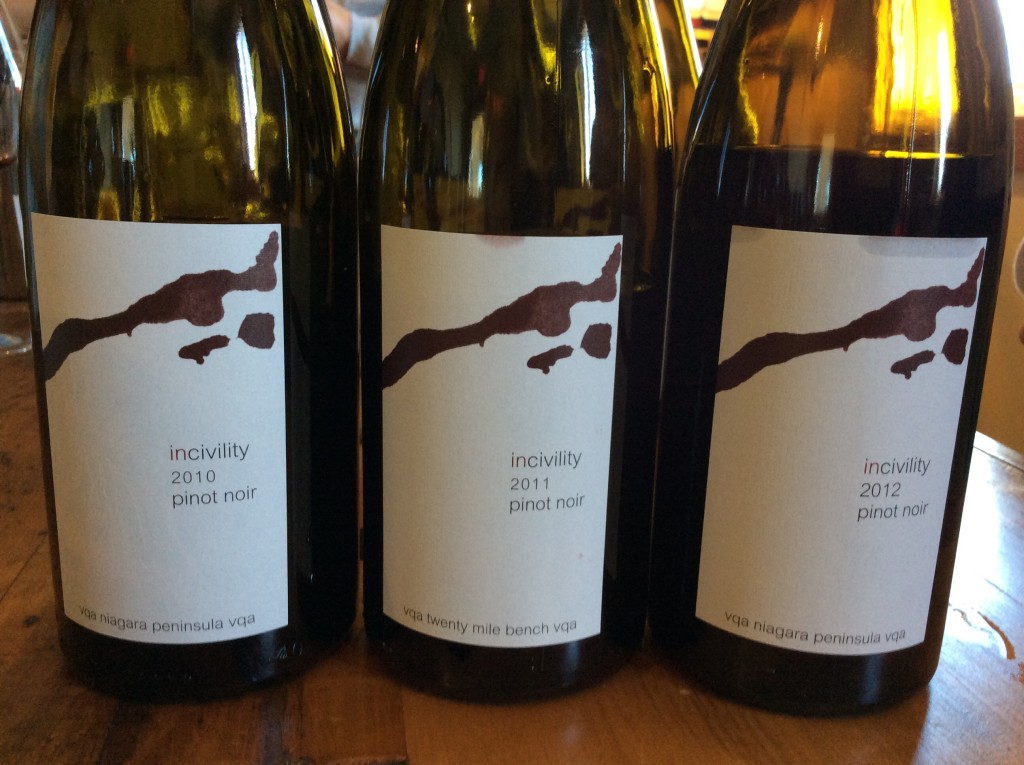 2011 Rebel Pinot Noir – $22.95 – ****+ – I still think that entry level Pinot Noir is a bit of a thorn in the side of the Ontario wine industry.  There are a lot of cheap Pinot's that taste alot like earth with very little fruit to round them out.  This Pinot will hopefully help raise the bar in the entry level market for the heartbreak grape.  This is a beautifully delicate wine with tons of Cherry, Cranberry and subtle notes of Raspberry that fill your whole mouth up and then just on the finish you get a nice burst of damp earth that fills your whole mouth.
2010 Invicility Pinot Noir – $29.95 – **** – There is a ton of fruit in this bottle leaning towards very ripe cherry, plum and starts to get a little bit of raisin on the mid palate thanks to the very warm summer.  This is very good Pinot that is definitely outperforming it's pricepoint (a recurring theme with the wines from 16 Mile) there is something unrefined and rough around the edges about this wine.  The extra ripeness from the fruit and great acidity on the finish should let this age for 5-10 years easily in your cellar.
2011 Incivility Pinot Noir – $29.95 – ****1/2 – Very pretty violet notes leap out of the glass mingled with lots of very ripe cherry and black cherry.  Once the wine hits your mouth you will be bombarded with tons of Cherry, Plum, Blackberry … and then more Cherry.  As the wine starts to fill your whole mouth with flavour floral and fruit start to peel away and reveal flavours of smoke and mossy forest floor on the finish all wrapped up with nice acidity.
2012 Incivility Pinot Noir – $29.95 – ****1/2 – The floral notes are very intense on the nose while cherry takes a back seat to the flowers in your glass.  The fruit in the glass is still very much Dark Cherry and ripe red Cherry but moves even darker than the 2011 with blackberry and violet flavours making an appearance in the glass.  In spite of the hot 2012 summer the grapes were harvested at just the right time (alcohol is 12.5%) giving you a perfectly balanced Pinot that should last in your cellar for 5-10 years.
2013 Renegade Rosé – $16.95 – ***1/2+ – The nose on this wine can only be described as … interesting.  This is what happens when you barrel ferment Pinot Noir rosé and then forget about it.  The nose smells like wet firewood once it starts to burn.  Once you put the wine in your mouth it is a ton of raspberry, and cherry with slight smokiness on the finish.  This is your essential barbeque wine for the summer.  It will hold up to heavier red meats like Steak just as easily as grilled pork or chicken.  If I have the patience I am going to save a bottle to pair with Turkey for Thanksgiving.