Wine Review – 2016 Rosewood Sussreserve Riesling – 2014 13th Street Sandstone Vineyard Gamay Noir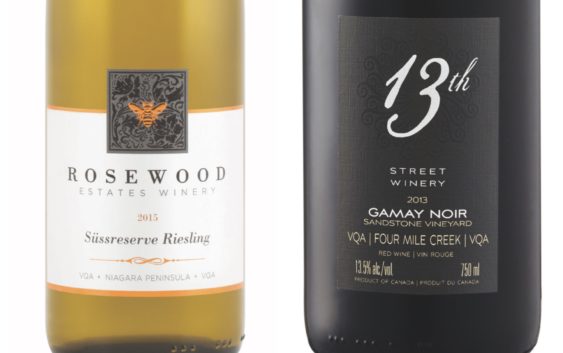 2016 Rosewood Sussreserve Riesling – Vintages 258806 – $15.95 – **** – Well this is something different – a little more serious – a little more complex. I have long used the Sussreserve as a go-to when talking about Ontario Riesling, it was straight-forward and easy drinking. It would seem that the 2016 didn't get the memo. What we have is something that has nice depth and complexity that previous vintages didn't bring to the glass. Aromas are roasted apple with a slight citrus note. On the palate this wine opens up with a nice floral note, and the cooked apple from the nose. As the orchard fruit begins to unravel it is met almost immediately with bright acidity keeping this wine light on it's feet. This crisp finish on this wine keeps it very food friendly, but my suggested pairing is a second glass.
2014 13th Street Sandstone Vineyard Gamay Noir – Vintages 130195 – $29.95 – ****½ – This wine is simply stunning. So if you're reading this on a mobile device head to your nearest transportation so you're closer to the LCBO by the time you're done reading this. This is still a medium bodied wine, but I don't think it knows that. The concentrated aromas of cherry and black pepper climb out of the glass with such intensity you may forget to take your first sip of the wine. Your mouth will be greeted with beautiful dark cherry, and black pepper but there is a nice vanilla note from time spent in French oak. The tannin is silk and this wine rolls off the back of the tongue with ease. There is nice acidity on the finish that reminds you that this wine is still, in fact, Gamay. A bottle of wine like this presents a dilemma… This would make a fantastic addition to a cellar if you want to hold a bottle or two for 4-6 years… but it's drinking so great right now. So if you plan on keeping this for a few years, I wish you luck in resisting the urge to enjoy it now.