My Wine Journey through the Finger Lakes
I can't believe it has taken me this long to get around to writing this. During the late spring I hopped in the car and headed down to the Finger Lakes in New York State in search of Riesling. I have been keeping an eye on the work of Paul Hobbs after having a chance to meet him at a Stratus event in Toronto. When I heard that Paul was set up in the Finger Lakes I knew I had to check out what is going on. So I headed down to taste some wines and get my interview (you can listen to my chat with Paul at his property on the South east side of Seneca Lake which I released last year by clicking on this link).
Before I get to the wines let me tell you about what I decided to do this weekend on this trip. My friend Guillaume, who joined me on this trip, was raised in France and was inspired by Ray Kroc after watching "the Founder" and declared that he wanted to eat every meal at an old time diner – preferably with the roller skates and the drive-in service. The small towns around the finger lakes offer this dining experience in spades and it certainly makes for a quaint experience that helps stretch our Canadian dollarettes a little farther. That being said … after a weekend of fried diner food I was craving a salad.
Here are a couple of the restaurants we visited – and if you're looking for a slice of Americana to go with a slice of Pie you should check these places out.
Connie's Diner – 205 East Main Street, Waterloo, New York
Mac's Drive-In – 1180 Waterloo Geneva Rd, Waterloo, New York
Not to be confused with a fantastic winery in Niagara with a similar name my first stop brought me to Ravines Wine Cellars. When I visited New York in January I had come across many bottles of Ravines Riesling at many of the wine shops in Manhattan. Here are some highlight from what I tasted here.
2015 Dry Riesling – $17.95 – **** – A nice mineral note goes from nose to finish. There is nice citrus balanced with slight sweetness that keeps the fruit fresh and bright. This is met with very nicely balanced acidity keeping the palate clean and leaving just a hint of the fruit behind.
2015 White Springs Vineyard Dry Riesling – $22.95 – **** – The backbone to this is still a satisfying mineral note. The citrus note is matched with orchard fruit – peach and apple join the party. There is a hint of sweetness and this just amplifies the fruit flavours, but this is still met with great acidity.
2016 Pinot Noir Rosé – Sold Out – Soft notes of raspberry, watermelon and floral. There is just a hint of sweetness on the finish, but this is met with great acidity. This is a great example of rosé that drinks a little too easy. I would look forward to the 2017 vintage with anticipation.
2007 Brut Sparkling – $34.95 – **** – Made in the traditional method with Chardonnay and Pinot Noir. This has been on lees for seven years before being released. The nose is rising bread and the fruit is a little more ripe than what you might expect from France, or Niagara while we're talking about it. Expect apple and peach but this is still met with bright acidity.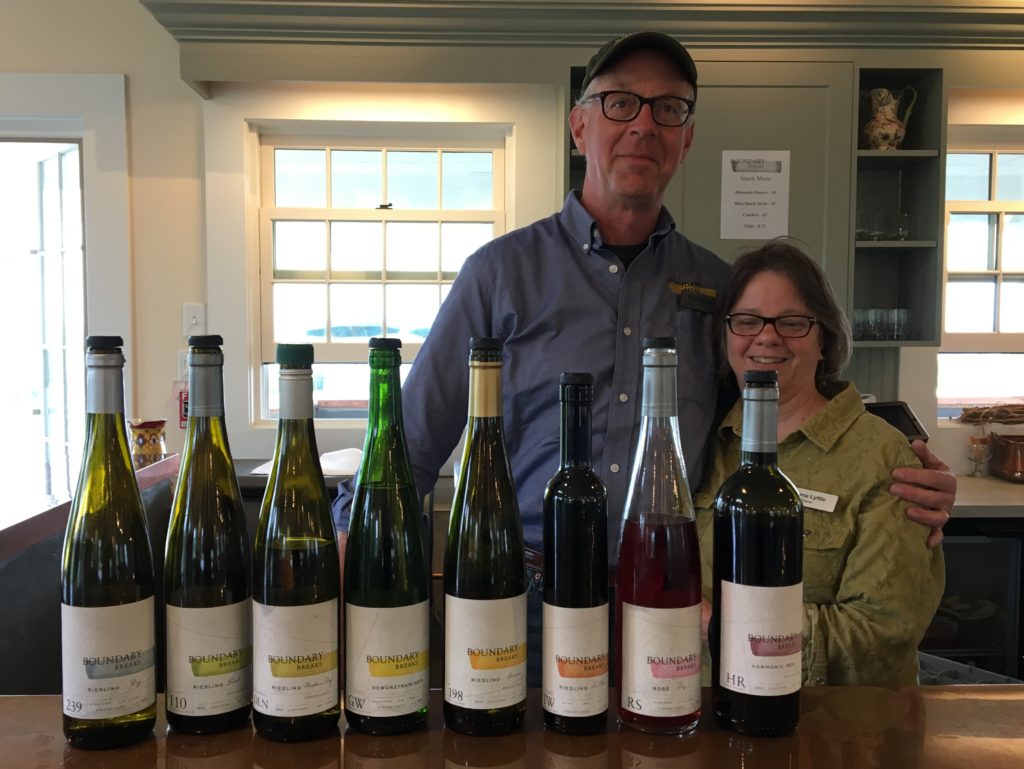 Boundary Breaks is an impressive winery on the east side of Seneca Lake that focuses on dealing with Riesling by clone. These wines are so f***ing nerdy – if you want them to be. If you care about specific clones of Riesling this is a perfect place to geek out, but if all you care about is how the wines taste you can enjoy these wines without pretension.
2016 Riesling 239 – $22.95 – **** – There is nice acidity to this dry riesling that is in near perfect balance. The fruit is apple, peach, and there is a citrus note that keeps this light and refreshing on the palate. There is a mineral note to the wine, but it is buried under all the ripe fruit flavours – if you have the patience to keep this in a cellar the mineral note should start to reveal itself in 3-7 years.
2016 Riesling 110 – $39.95 – **** – This wine is austere and tells a story that is driven by mineral. A slight sweetness makes sure that the fruit pops and jumps through a very 'serious' wine. In spite of the sweetness mineral and acid keeps this wine in perfect balance.
2014 Riesling 198 – $22.95 – ****+ – This wine took a piece of my heart and I instantly fell in love. Perfect balance and a tip of the hat to Germany – but this still offers a distinctly New York take on Riesling. This hits every note that Riesling should bring to the table – Baked apple, peach, lime, and mineral. There is a nice crisp note to the finish that makes you forget that this wine is, in fact – off-dry. Expect this to age in a cellar for 10-15 years easily … but why wait?