Tinhorn Creek (July 2016)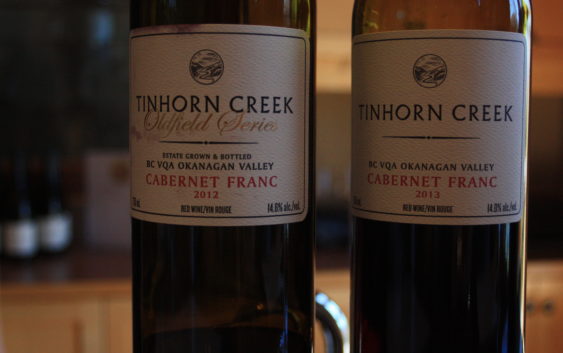 I'm a big fan of Twitter (shameless plug you can follow me @andrewinereview) but many other great wine people and businesses exist on this platform. I have been following Sandra Oldfield for a few years. She is the founder of #BCWineChat and the CEO and President of Tinhorn Creek and most recently the winemaker. She is also a fierce advocate of the BC wine industry and the Canadian wine industry in general. I felt privileged to have the opportunity to sit down with her during my trip out west. In Ontario we are fortunate enough to see Tinhorn Creek on the shelves from time to time through Vintages.
2015 Pinot Gris – $17.49 – **** – Apples and Melons on the nose but restrained and subtle. The nose on this feels like a textbook Pinot Gris but when you take your first sip you are greeted with an intensity and concentration of fruit that is so satisfying. Apples, Peaches, Apricot and a nice mineral note that sticks right to the finish.
2014 Chardonnay – $19.49 – **** – Aromas of smoke and roasting pineapple rise out of the glass. This is a hot summer day in a glass. There is nice pineapple, and peach in the mouth. This wine has a nice creamy texture on the palate with vanilla and spice rounding out the whole package. The finish is long but this wine has nice acidity.
2015 Gewürztraminer – $15.99 – ****+ – Mango, Lychee and Rose Petal are on the nose of this wine. This might be the best value of any wine I tasted on my entire visit to the Okanagan. This is slightly off dry but has very nice acidity keeping the palate clean. There is a nice note of ginger and spice on the mid palate that hangs around on the finish. This is an essential wine for spicy chinese cuisine, or spicy mexican food.
2013 Merlot – $20.49 – **** – This is one of those wines that drinks dangerously easy right after opening. The nose invited you into the glass with vanilla and cedar but then it moves to strawberry. This wine is velvet on the palate with strawberry and ripe red cherry. This is a perfect wine for someone looking to build a cellar. You can add a couple bottles to new collection, but still drink them without guilt or patience.
2013 Oldfield Merlot – $26.99 – ****+ – Now this is a bottle that is designed for someone with a well stocked cellar, but it's priced well enough that if you're new to wine this won't scare you away. This is a big wine with Candied Cherry off the nose. The ripe red fruit flavours are perfectly ripe without entering into jammy territory. The tannin is grippy and firm but it doesn't overpower the delicious fruit flavours from this wine. IF you open now I would suggest an hour in a decanter, or you can wait 2-10 years in a cellar.
2013 Cabernet Franc – $21.99 – ****+ – There is a lot of fruit on the nose with Raspberry and Cherry but underneath the big fruit flavours there is a whisper of spearmint. Raspberry, Blackberry, Strawberry, Cherry with a bit of Smoke on the finish.
2012 Oldfield Cabernet Franc – $31.99 – ****1/2 – The nose is intense and concentrated with pure fruit — Raspberry and Cherry. The concentration from the nose definitely delivers in the mouth right from the first sip. This fills your entire mouth with Blackberry, Cherry, Raspberry, and Strawberry. The first sip brings the fruit … the second sip brings everything else with some nice depth and the return of the spearmint. The finish brings notes of cocoa and a pinch of black pepper. This will easily age for a decade in a cellar.