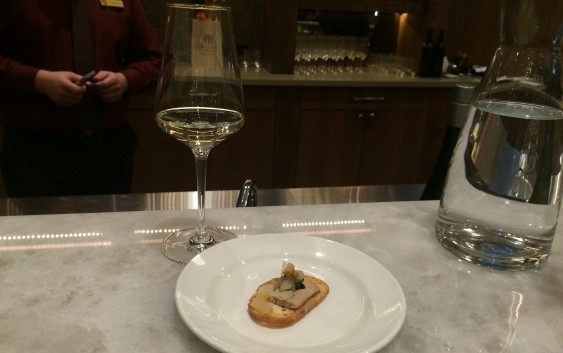 I love "Taste the Season". It's a passport event hosted by the wineries of Niagara-on-the-Lake and it takes place weekends in November. I'm going to let everyone in on a secret. If you're ready to take your wine geekdom to the next level the best time of the year to visit your favorite winery is in the fall or winter. You are presented with two opportunities in November that you may not get a chance to experience in a busy tasting room in the summer. In the case of a late summer (like this year) you may get a chance to see all the machinery at the back of the winery that usually lies dormant in full operation. If the harvest is all wrapped up you will likely find a winemaker around the winery who is more than eager to talk about what they are pouring. Now the real reason I love passport events is that you get an opportunity to visit some wineries that you may have overlooked. I know for most people we are creatures of habit and can fall into ruts with what we drink and which wineries we visit. Here are a few highlights from my weekend doing Taste the Season.
Coyote's Run Estate Winery – 2013 Five Mile Red/Peach Wood smoked Pork Loin layered on a Crostino and garnished with Carmelized Red Onion Jam – I probably could have eaten a hundred of the Pork loin bites but restrained myself. The wines at Coyote's run are all well priced and easy drinking. The Five Mile Red is made with Pinot Noir, Cabernet Franc, Merlot and Syrah this wine is fruit driven and easy drinking.
Trius – 2014 Cabernet Sauvignon – Mini Trius Pot Pie – I was impressed with the quality of the wine. I don't think there is any winemaker who wouldn't tell you that 2014 was what is referred to as a "challenging" vintage coming off a devastating winter. I remember the Pot Pie being tasty but honestly the wine was the show stopper at Trius.
Two Sisters Vineyards – 2013 Riesling – Paté on Crostini with Fall Fruit Chutney – Straight up this was the best stop on the passport for me. The paté was perfectly prepared and was a slam dunk patch to perfectly balanced Riesling. The saltiness and creaminess of the Paté is a perfect marriage to bright crisp citrus Riesling.