Portugese Wines: A Learning Experience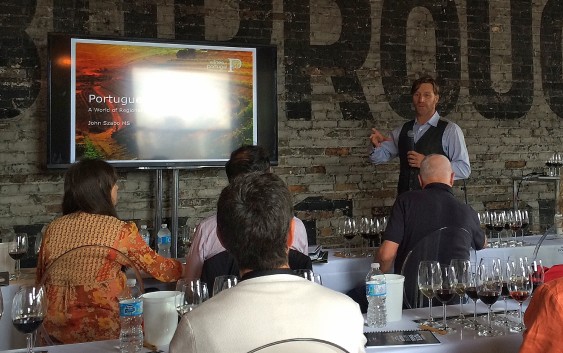 Last month I attended a wines of Portugal tasting. Prior to a walk-around tasting there was a crash course seminar hosted by Master Sommelier John Szabo. I don't know much about Portugese wines. For most people their knowledge of Portugese wines start and end with Port. There is obviously much more going on in Portugal than fortified wine. The seminar gave us a taste of ten wines — 4 White, 5 Red and 1 Port. I love doing tastings of wines that I don't know a lot about. I am less worried about comparing the wines to others I have tasted in my head and drawing a comparison. Basically when the wine hits my mouth I either like it … or I don't.
White Wines – The white wines I tasted at both the seminar and walkaround tasting were the standouts for me. They were well balanced with nice acidity and nearly all had long finishes and a nice round texture regardless of whether or not the wines had been aged in oak. I do hope that we get to see some more of these wines at the LCBO because they drink very easy and would make a welcome addition to any cottage weekend.
1. 2014 Quinta da Aveleda White – Citrus with leanings towards lemon, slightly floral with nice mineral on the nose and on the finish.
2. 2014 Quinta dos Roques White – Soft on the nose with Citrus and Baking Spice. This wine was a little fatter on the palate with pear, peach and apple.
3. 2014 Herdade dos Grous White – Pineapple and Tangerine. The wine is still balanced with good acidity but the acids are definitely less present.
4. 2014 Redoma (Niepoort Vinhos) – The oak in the wine is present immediately on the nose. Lots of vanilla on the nose and in the glass layered over peach and tangerine. There is a great heavy texture to the wine and a fantastic long finish.
Red Wines – I think this is the moment I fell in love with Portugese wines. My favorite at the seminar was the 2012 Quinta Do Crasto Reserva Vinhas Velhas Red. John explained to the room that many Portugese winemakers don't worry too much about individual varietals. The vineyards are planted to contain several different varietals planted side by side. The idea is that some grapes do better than others depending on growing conditions, and having the grab bag of varietals means you can consistently get good wine regardless. The Quinta Do Crasto could contain as many as 30 Varietals. I just love the fact that we aren't supposed to be concerned about whether or not there is 4% Cab Sauv in a blend to make it more interesting. You just sit back and enjoy the wine.
5. 2011 João Portugal Ramos Wine Quinta Foz de Arouce Red – Very ripe red fruit – Cherry, Blackberry with hints of nutmeg and allspice. There is big chunky tannin that still moves to nice acidity on the finish.
6. 2010 Quinta Do Mondego Red – Flavours are lighter with lots of cherry. This wine is nicely balanced with medium firm tannin
7. 2012 José Maria Da Fonseca Vinhos – José de Sousa Red – Lots of very ripe jammy fruit with very soft velvet tannin. There is a slight savory edge on the finish of this wine.
8. 2012 Quinta Do Crasto Reserva Vinhas Velhas Red – This was my favorite wine at the tasting. Woodsmoke and licorice on the nose with currant mixed in there. The flavours are Currant, Blackberry, Woodsmoke and Cedar. There could be 30 Varietals in the bottle … but we can't really be sure.
9. 2012 Quinta Vale D. Maria Vinha Da Francisca Red – Even though this wine has spent 22 months in new oak barrels you can't  really tell. The wine is soft on the palate with very ripe red fruit flavours (very ripe is a trend here)
Obviously we couldn't taste wines of Portugal without tasting Port. Wine number ten was Ramos Pinto 20 Years Quinta do Bom Retiro. The finish on the finish on the wine was spicy and at 20 years struck a very nice balance between youthful fruit flavours and nuts and dried fruit that comes with age.