Harvest Ontario – iYellow Wine Club
Someone found a new favorite wine on November 5th. At the Great Hall in Toronto sixteen wineries arrived to share a piece of the harvest with the city. I had never been to the great hall but the venue was great for a walk around tasting. The iYellow crew really pulled off a fantastic event. The best thing about having wineries come to the city is for many of us we fall into a rut with what we drink and even what wineries we visit. I love walk around tastings because you get a chance to get outside your comfort zone. Chances are at an event like this there are a few wineries you will be familiar with pouring next to some new faces.
I have attended similar tastings in the past but this was the first time that I had a chance to help organize and I have to tip my hat to Ange, Mandy, and John. A lot of work goes into planning one of these events. So thanks to all the wineries who poured and to the people who attended. For those of you who missed out and don't want to wait until harvest next year you can always check out an upcoming tour hosted by iYellow. The bus tours are another great way to get out of your comfort zone: http://iyellowwineclub.com/
There are a lot of highlights from the event that I could list here but here are a few of the wines that I really liked.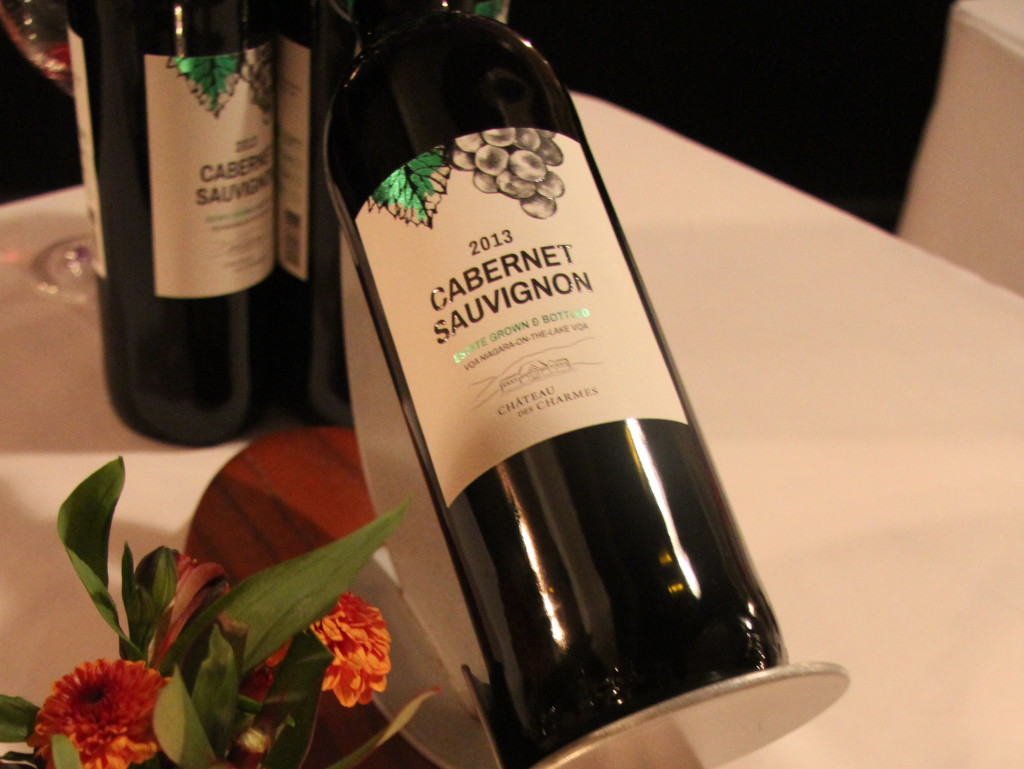 2013 Chateau des Charmes Estate Bottled Cabernet Sauvignon – LCBO 370320 – $14.95 – It's hard to believe that this is the entry level wine for Chateau des Charmes. They are currently in the process of rolling out their new labels on the wines and I'm a big fan. The adage of not judging a book by it's cover is especially true in the wine world. As great as a label can be it's important that the wine tastes good. Perfectly ripe and fruity and still feeling very young out of the bottle. Don't expect this to age for a long time but when you do decide to serve it make sure you open it for at least 30 minutes before serving.
NV Colio Lily Sparkling – LCBO 418657 – $16.95 – This wine was the silver medal winner for the Ontario Wine Awards. Every time I taste the wine I think it just gets better. Bright Citrus, Crisp and Clean with just hints of creamy vanilla on the mid palate. Some would accuse this wine of being too easy drinking, but anyone who has read this blog before knows that this isn't a bad thing.
2012 Cornerstone Cabernet Franc – Winery Only – This winery is made using a ripasso method where the wine is passed through the skins of grapes that have been dried for appassimento style wines. The fruit flavours are amplified in this wine but so is the tannin. This is a big, bold Cabernet Franc that is more evidence that Cabernet Franc is the varietal for Ontario. Simply put this wine is delicious.
2012 Good Earth Cabernet Franc – Winery Only – This franc is a polar opposite to the Cornerstone Franc. Elegant and juicy with nice savory notes on the finish that rise up right on the finish. This is a wine begging to be paired with food and luckily at the harvest event there was a whole roasted pig that matched up quite nicely with this wine (I imagine it will be even better with beef)
2013 Domaine Queylus Tradition Chardonnay – Winery Only – I'll admit to a personal bias here. I'm a huge fan of the wines from Domaine Queylus and if you didn't get a chance to taste this wine from one of the newer wineries in Niagara you definitely missed out.
2013 Marynissen Platinum Series D524/Vin13/Vin2000 – Winery Only – This is straight up the nerdiest thing you will find at any winery in Ontario at the moment. This is three bottles of Chardonnay from the same vintage and same vineyard but each bottle has been made with a different strain of yeast. The differences between the three are very subtle but picking up all three should make for very interesting conversation around a few bottles.