Earlier this year I had a chance to do a broad tasting of the current offerings from Southbrook. Last year I had an opportunity to taste a depth of Cabernet Franc and Sauvignon. It would seem the wines for sale this year offer something a little bit interesting. Vidal served two ways – both a sparkling and orange version. Also, we see a cider that is something of a Niagara take on a basque style. If we are talking about the more traditional side of the portfolio the 2013 Poetica is nothing short of breathtaking.
2016 Biodynamic Bubbly – $24.95 – ****+ – It would seem the people at Southbrook weren't content with creating their "Orange Wine" in finding ways to make Vidal taste delicious without being made into Icewine. This is made in an ancestral style, which means the carbonation comes from the initial fermentation, as opposed to a secondary fermentation like most bubbly wines that we are familiar with. When you pour the wine in the glass it comes out a little cloudy in your glass. The aromas are apple and bright lemon with a nice note of rising bread. This hits the palate with bright crisp citrus flavours and finishes clean. The apple note follows on the second and third sips. This is a wine that may attract the wine geeks and somms looking for something unique but don't let any snobbery deter you from picking up this bottle. This wine tastes good and will make a great addition to a fish fry on a patio with the warm weather.
2013 Allier Estate Grown Chardonnay – $39.95 – ****+ – This was a standout from a tasting I did last year where I was fortunate enough to taste the entire lineup of Cabernet Franc, Cabernet Sauvignon and Chardonnay from the 2013 vintage. It would seem another year in bottle has brought a little more harmony to the flavours in this wine. The nose has butterscotch and a hint of wood smoke with the fruit buried under the sweet aromas. When you take a sip of this wine it opens right up with hints of orange and pineapple. The fruit steps aside and you will welcome a nice, long vanilla note that lingers long on the finish. Make sure not to serve this too cold to really let the fruit come to life on the palate.
2013 Poetica – $49.95 – ****½ – This is something really exciting and refined from Southbrook. Somehow this wine shows great restraint but manages to deliver great depth and complexity all at the same time. The nose has subtle vanilla notes layered over apple and peach. But, there is a mineral note that really makes up the backbone of this wine and it keeps these aromas from overpowering the senses. When you take your first sip of this wine it opens up in your mouth revealing a piece of the entire orchard you were exploring on the nose. While you ponder the flavours in the glass there is this mineral note brings you back down to earth. The finish is long with a hint of fruit and vanilla staying behind but the mineral note keeps the palate refreshed and eager for the next sip.
2016 Orange Wine – $29.95 – **** – (Tasted March 20, 2017) This is always something interesting and at this point I can call it highly anticipated when the new vintage arrives from Southbrook. Made with no additives of any kind it does evolve quickly, so by the time you taste this wine this tasting note could be obsolete. I am going to share my impressions anyways – Once again this wine is made from Vidal and offers bruised apple aromas and flavours. There is smooth tannin has this feeling almost like tea. This wine is bone dry and finished with nice acidity and just a little bit of the tannin that grips on the finish.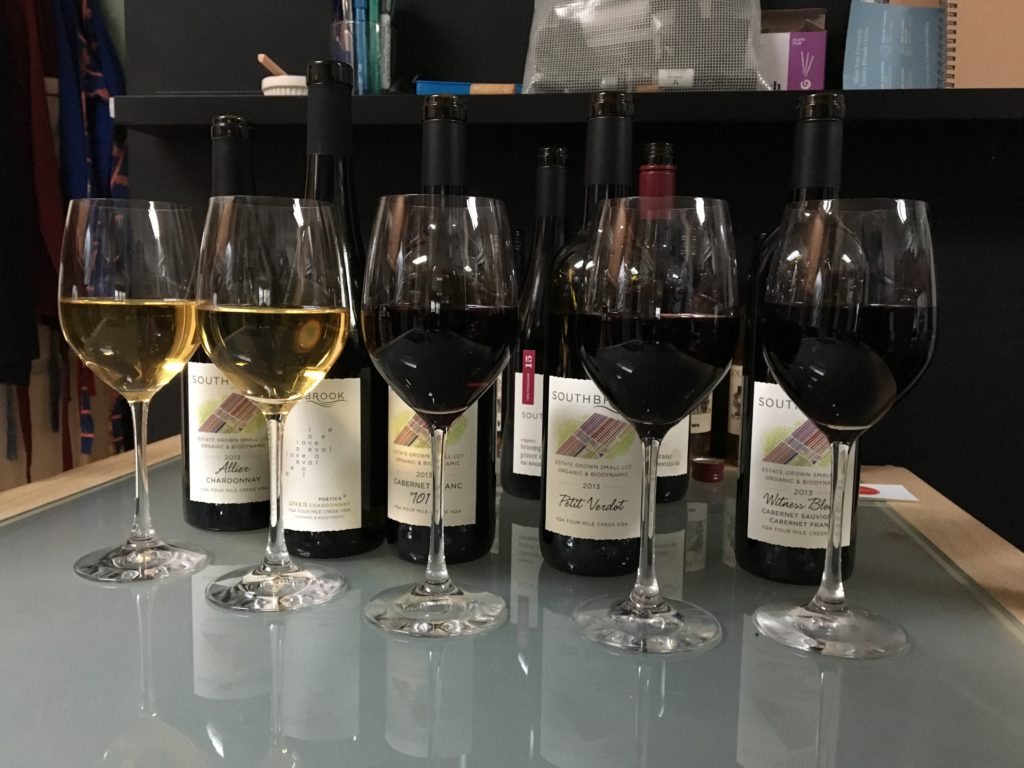 2013 101 Estate Grown Small Lot Cabernet Franc – $34.95 – ****+ – Aromas of raspberry and blackberry with a nice pencil shaving note tossed in for good measure are what you can expect here. The tannin is still quite tight and closed off so if you plan on drinking this young have a decanter on hand, or some patience after you open the bottle. I expect with 2-3 years it should relax and bring some balance to the great flavours in the bottle. The flavours on the palate almost feel like a tennis match moving back and forth between ripe flavours of blackberry, plum and raspberry and a cedar note. This will be at home on the table next to grilled red meat.
2013 Estate Grown Small Lot Petit Verdot – $39.95 – ****+ – The aromas are cranberry and raspberry and climb out of the glass with a sharp edge. When you take your first sip the flavours tell a much darker story. Cassis, and blueberry unravel on the palate as you go deeper into the glass. The fruit is vibrant and nicely concentrated but this wine will need some time in a decanter if you open young to bring it into focus. I expect this to relax with 2-3 years in a cellar and should develop nicely over the next 7-10 years.
2013 Estate Grown Small Lot Witness Block Cabernet Sauvignon/Cabernet Franc – $39.95 – ****½ – 60% Cabernet Sauvignon/37% Cabernet Franc/3% Merlot make up the blend in this impressive offering. The complex nose on this bottle offers pencil shaving, rich cassis and a whisper of smoke. In the mouth this has nice juiciness that fills your mouth from cheek to cheek. Somehow there's room in this wine for a nice minerality that pokes through everything else that's going on. This is a dangerous bottle to add to the collection because it is approachable and drinking great right now, but it definitely has the potential to cellar for another 7-10 years. So do you open this now? Or do you wait? I don't think there is a wrong answer here.
2016 Wild Ferment Cider – $15.95 – I love macintosh apples. If you love macintosh apples that way I do you should pick up a bottle of this cider. This was fermented with indigenous yeasts so there is a funky note layered over all the perfectly ripe mac. While this goes into the bottle with 11 g/l of sugar it ferments to bone dry. This is something interesting and tasty to add to a shore lunch with some fried fish.
2015 Southbrook Organic Triomphe Pinot Noir – **** – $29.95 – (NOTE: Gold Medal Winner at the 2017 Ontario Wine Awards) – This is a new entry fo the Triomphe line from Southbrook. This may push the price point of the triomphe line a little higher, but this still speaks great value. I will lament value priced Pinot Noir in this province as generally being a little harsh and earthy. This bottle from Southbrook is smooth, concentrated, and everything that's right with Pinot Noir from Ontario. There is ripe cherry on the nose with a hint of smoke. On the palate the ripe cherry flavours are concentrated and almost taste candied. There is a nice layer of vanilla surrounding the fruit. This is a perfect wine to pair with mushroom or lamb dishes. I'm certain that this could spend some time in a cellar, but it's so easy drinking it will be hard to hold onto.
2015 Southbrook Triomphe Chardonnay – Vintages 172338 – $24.95 – **** – This is a chardonnay that brings something a little subtle to the glass. Apples and pears with a whisper of vanilla layered over the orchards fruit. The acidity is bright and palate cleansing. The flavours are apple and met with vanilla and hints of spice.. There is something about this Chardonnay that somehow brings everything that's great from the barrel but the restrained flavours will make this very food friendly. I see this as a great match to chicken or pork from the oven or barbeque.