2014 Konzelmann Late Harvest Gewurztraminer – 2016 Tawse Rose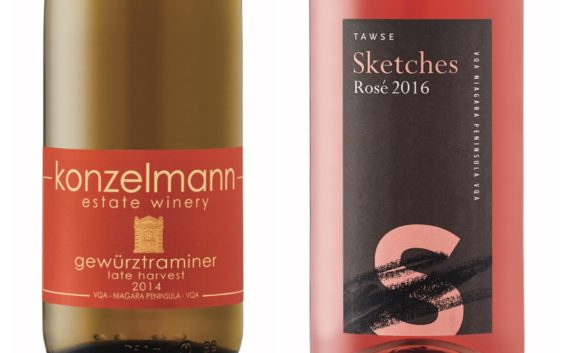 2016 Tawse Sketches of Niagara Rosé – Vintages 172643 – $17.35 – ***½+ – The nose is concentrated and sweet with raspberry and something a little like hubba bubba (bubblegum). The fruit on the palate is intense with strawberry, watermelon, and cherry. There is a slight sweetness to this rosé, and it seems to amplify the fruit on the palate. There is nice acidity to this wine and this is a well balanced wine. This will make a great match to grilled fish or pork.
2014 Konzelmann Late Harvest Gewurztraminer – Vintages 392357 – $14.75 – ****½ – Gew from Ontario is a bit of a riddle. I recently had a discussion with some people about how the texture of Gewurztraminer from Ontario is lacking what you get in a bottle from Alsace. Frankly I think this lighter texture is what makes these wines so great. Gewurztraminer can be a challenge when it comes to pairing with food because the heavy texture and flavours tend to linger and you need something with a lot of spice to cut through the floral flavours. Now don't get me wrong, the best food pairings for Gew are still Indian, Thai or Mexican cuisine. This bottle from Konzelmann offers a very rich nose of Rose and Lychee. As this wine opens up on the palate you will get a nice spice note that brings up the finish. This is medium heavy on the palate but there is a nice acidity to this wine keeping the slight sweetness in check.