2016 Fielding Estate Rosé – 2010 Flat Rock Riddled Sparkling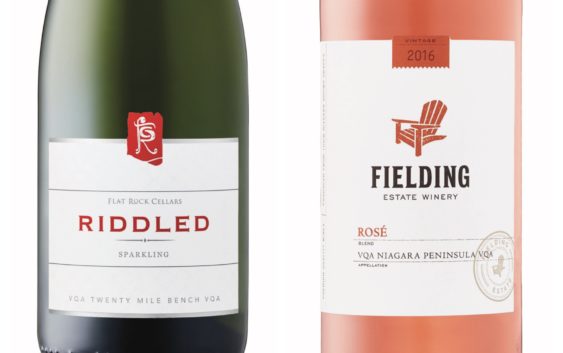 2010 Flat Rock Riddled Sparkling – Vintages 383315 – $29.95 – ****+ – Sealed with a crown cap we have another bottle of unassuming sparkling wine available for the masses. Aromas of baking bread and Granny Smith apple rise out of the glass. But what makes this wine special is the concentration of the fruit is intense and satisfying. The bright crisp acidity greets your palate exactly how you would expect from great sparkling wine, but the concentration from that aromas cut straight through the citrus flavours and bring an apple orchard to your mouth. In short this is a great bottle of bubbles.
2016 Fielding Estate Rosé – Vintages 53421 – $15.95 – ****+ – There is a slight copper tinge to this wine, it's really nice to look at in your glass. Enough about that, the most important thing is what it tastes like. Watermelon, Raspberry and Cherry make up the nose and have you yearning for a hot afternoon on a patio. The flavours match the nose, but bring an orange note as bright acidity brings up the finish. This is bone dry and balanced with perfect acidity. This is one of those bottles that you should keep around your house regardless of food pairings. This is a true all purpose bottle as it has enough depth to hold up to grilled beef, but will be just as home with lighter picnic fare.