I traveled to France in November to check out the Beaujolais Nouveau release.  After spending a few days hunting for Cabernet Franc in St Émillion I knew that I had to go to Beaujolais.  Beaujolais, like Ontario, is currently take the long way up recovering from a bruised reputation stemming from a market that was flooded with bad nouveau.  It is also no secret that I am a Gamay hunter (search my twitter feed @andrewinereview for the hashtag #gogamaygo).  There is definitely a shortage of love for Beaujolais.  In each new Vintages release we are lucky to get one Beaujolais so each year we get maybe 24 new bottles in the Vintages section.  It is time to give Beaujolais a second look.
This is the first of two posts to highlight my visit to this wonderful region.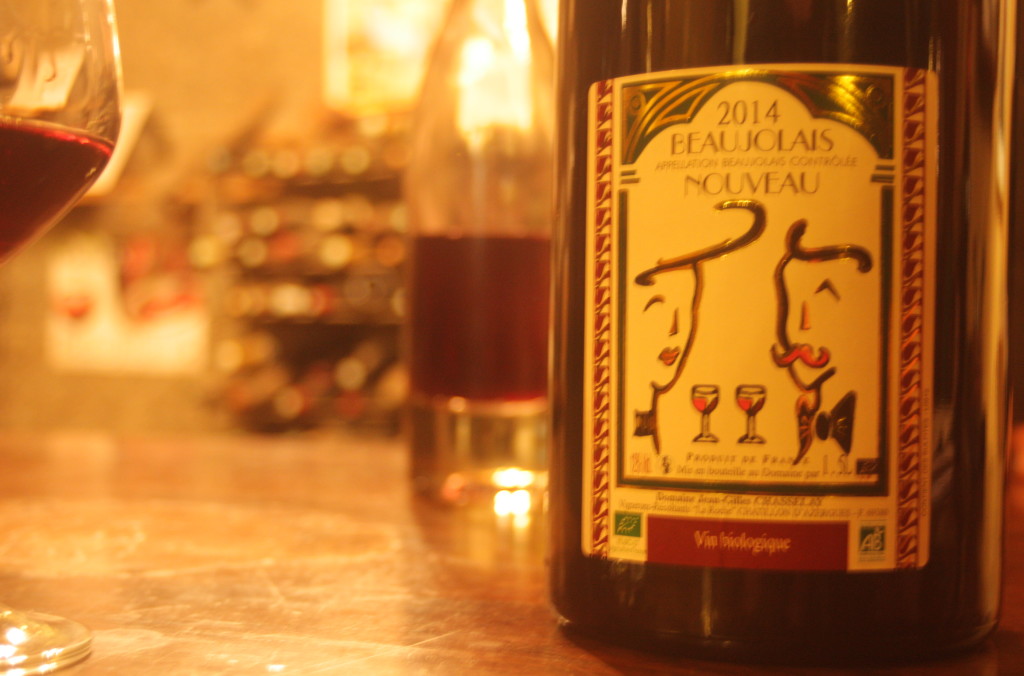 My first stop was at Domaine Chasselay.  This winery is 30 minutes away from Lyon.  Chasselay is a certified organic winery.  I'll be honest I am having a hard time deciding where to start.  I certainly was not prepared for what I found in Beaujolais.  The price of a bottle of Nouveau is €5,60 ($7.50CDN) which still makes it cheaper than what you can get at the LCBO.  There is a huge disconnect between the producer of Beaujolais Nouveau and the critic.  Every year I have gone to the Nouveau tastings and watched other critics and myself sip, swirl and try to make some serious assessment on what is in the glass.  Meanwhile in Paris the consumer is gulping back as much of this wine as quickly as they can.
The producer of Beaujolais Nouveau takes this wine very seriously.  Nouveau at Chasselay is completely hand harvested and fermented in concrete.  Chasselay while located in the centre of the Beaujolais AOC also have vines in the Fleurie, Cote de Brouilly, Morgon, and Chenas cru's.  I was also introduced to Beaujolais Blanc here.  Beaujolais Blanc is made with Chardonnay.  As I later learned throughout the trip nearly every producer in Beaujolais has a small parcel of Chardonnay vines to make these fantastic wines.  The main philosophy that drives the winemaking at Domaine Chasselay is that you only put it the wine any grapes that are good enough to eat.
2014 Beaujolais Nouveau Domaine Chasselay – €5,60 – Bright and vibrant with loads of Strawberry, Cherry and Banana and Pepper on the finish.
2014 Cuvée de la Marduette Nouveau – €6,60 – Flavours lean more towards Dark Cherry this would be a more "serious" Nouveau still holding onto the signature pepper on the finish.
2013 Beaujolais La Platière – €8,00 – This is the bottle I bought to take home with me.  This spent 11 months in barrel before bottling.  It is fruit driven and delicious with flavours of Blueberry and Cherry layered over Smoke with slight Pepper on the finish.  Delicious and elegant this wine falls into the category of "presqu-pinot" (almost Pinot Noir for those who don't speak french).
2013 Chénas – €11,50 – Very ripe Cherry but softer on the palate with a nice pepper kick on the finish.
2014 Fleurie – €12,50 – A little more complex in fruit with Raspberry and Cherry my main note on this is that it is perfectly balanced with acidity. This was tasted from a tank sample and at this point no sulphur had been added.
2013 Bourgogne (Pinot Noir) – €12 – Ripe and Dark Cherry leaning towards a slight earthiness on the finish.  While not the finest Pinot in the world this is exceptional value and will be drinking very well for the next few years.
2013 Bulles – €6,80 – An Ancestral style sparkling Gamay!  The folks at Hinterland call their ancestral the "baby-maker".  It is easy to understand why.  This is dangerously easy drinking, off-dry but the acidity from Gamay makes it easy drinking on the finish.
2013 Beaujolais Blanc – Beautiful barrel fermented Chardonnay… and sold out at the time I stopped by the winery.  I cannot describe how good this wine was without using expletives… basically this wine is SO <<BLEEPING>> GOOD.  Perfectly balanced between grilled pinapple, vanilla and smoke flavours all wrapped up with a nice acid backbone to build the finish.  My only regret from my visit to Chasselay is not finding a way to get a bottle of this wine.
There is nothing wrong with the vineyard in the photo just above.  Thinking there was something wrong was a mistake on my part.  Our second stop for the day was Château de Vaurenard.  When we were driving up the driveway for the property all I could see where these sad looking vines with no trellis in sight.  All the vines in Ontario are trellis trained (as far as I know) so it was a bit of a shock to see vines basically naked.  The way these vines are guided are "goblet style".  Owner Ghislain de Longueviaille explained to me that his approach to vineyard management is one of low intervention and low chemical use.  Vaurenard has not used pesticide in the vineyards since 1999.  The idea is that a pesticide will kill everything, including the predatory insects that you might want to keep around.  Essentially the hope is that the vineyards will take care of themselves if you let nature run it's course.
The philosophy with regards to winemaking is also one of low intervention.  Wines are made using indigenous yeast using whole cluster.  Half of the grapes harvested make their way into nouveau while the rest are used for table wines.  Ghislain uses giant neutral oak foudres that are over 60 years old for his wines.  The wines age for 2 years in giant oak barrels (seen in the cover photo) in an underground cellar before bottling.  There are no sulphites added to these wines until bottling takes place.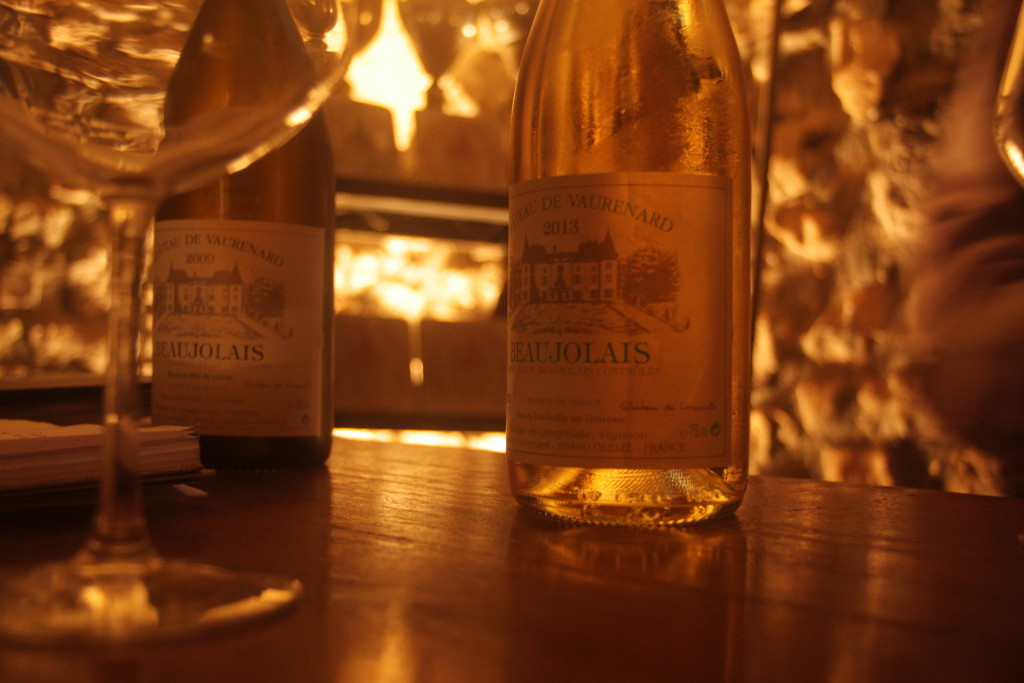 2009 Beaujolais Blanc – Barrel fermented Chardonnay with loads of apple, pear and peach all mixed in there.  The finish is rich butterscotch with nice acidity to round out the structure of this wine.  Coming from the monster 2009 vintage this wine is still young and vibrant and could use a few more years before it reaches it's prime.
2014 Nouveau – It is important that I preface my tasting notes by saying that Ghislain told me that he believes that Nouveau is supposed to be an expression of the Gamay grape.   Banana, Cherry, Vanilla with nice pepper on the finish.  Perfectly balanced with nice acidity that pops up after the fruit is finished in your mouth.  There is no residual sugar in this wine.
2009 Nouveau – The vintage is not a mistake.  2009 was a fantastic warm vintage in Beaujolais and the wineries had beautiful fruit to work with.  When this wine was opened you still had a lot of very ripe raspberry, strawberry and red cherry.  This wine has been made bone dry and even though it is already 5 years old it should still hold on for a few more years.  It definitely isn't normal for Nouveau to hold on this long but it's great to see what happens when you have great fruit in the hands of a talented winemaker.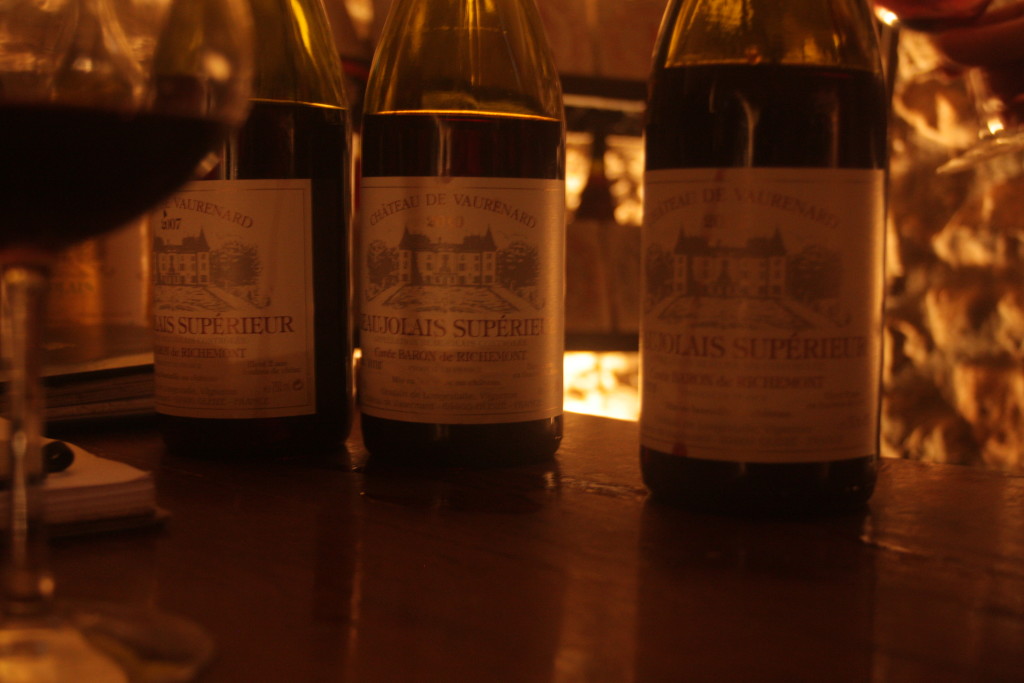 2010 Supérieur – SAQ 12100050 – $21.50 – ****+ – This wine is available in Quebec.  Earth and Cherry on the nose leads to ripe Strawberry and Cherry with a nice pepper note on the finish.  This is everything you would expect from a great bottle of Gamay.  This will easily age 5-10 years depending on your patience.
2007 Supérieur – This is a little more fruit driven than 2010 as the earth nose is absent.  The nose has a floral quality of violet and sour cherry.  The flavour is well structured Strawberry, Cherry and hints of anise and pepper on the finish with a nice acid backbone.
2009 Supérieur – Violet and Vanilla leap out of the glass from this super concentrated wine.  The flavour is tons of ripe cherry and blueberry with great acidity rounding out the structure of this wine.  This is a stellar example of great Gamay.  While this wine is drinking great now it will easily age for 20 years.  If you get your hands on a bottle you will want to decant it before pouring.
2005 Quintessence – SAQ 12100017 – $26.55 – **** – This wine is available in Quebec.  A little smoky and mushroomy on the finish.  This wine is starting to enter adolescence as it is still very fruit driven with lots of Raspberry and Cherry on the mid palate.  This is another wine that you could easily enjoy right now or wait another 5-10 years for it to reach full maturity.