During my trip to France in November I had the chance to make a stopover in Lyon.  It's hard not to fall in love at first sight with the food mecca of France.  The hard part once we were in the city was realizing we only had 24 hours to see the city.  The only mistake I made in planning my wine excursion to France was the fact that I didn't spend more time in Lyon.
For those who don't know, Lyon is the home of Paul Bocuse who may be the most influential chef from France.  There is no shortage of places to eat.  What you may find is that your Euro will go a little farther than in Paris.  The wine lists are local as Lyon is nestled in the middle of Côtes du Rhône, Bourgogne and Beaujolais.  You will find wine lists that are typically 40/40/20 percent of each respective wine region (with a handful of foreign wines… like Bordeaux).  In 24 hours I had the opportunity to eat at three memorable restaurants.
L'Institution – 24, Rue de La Republique – This was a perfect landing spot after spending most of the day in a car driving from St Émillion to Lyon.  The clientelle was varied as to the table next to us was a couple in their early twenties who looked like they were grabbing a bite before a night on the town and behind us was a table of 8 who looked like they were having a work get together.  The prix fixe menu was 30€ for 4 courses and our beautiful bottle of Fleurie was 32€.  The menu is a step up from regular brasserie cuisine and well worth the visit.
Daniel et Denise Saint Jean – Bouchon Lyonnais – 36 rue Tramassac – We were treated to lunch at Daniel et Denise a traditional Bouchon Lyonnais.  The Bouchon is basically comfort food.  You have a focus on sausages, roast meats … delicious stuff.  While in Lyon you have to try Quenelles!  It's essentially a fish dumpling made with Pike.  You get all these wonderful fish flavours and a soft pillowy dumpling served in a cream sauce.  The best part of being in Lyon in the fall is really getting to enjoy the hearty, heavier dishes offered at the Bouchon Lyonnais.  There are two Daniel et Denise restaurants in Lyon the location we visited was in old Lyon and worth the visit.  Expect to spend between 20€ and 30€.
Brasserie Le Nord (Paul Bocuse) – 18 rue Neuve – Sadly heading to L'Auberge du Pont De Collonges wasn't in the budget for this trip (The 160€ three course meal will be a stop for my next visit to Lyon).  The great news is that experiencing the Cuisine of Paul Bocuse isn't out of reach.  There are four Brasseries each focusing on the regional specialties found in french cuisine.   The food at Le Nord was a near flawless execution of comfort food.  A highlight on the fall menu was an appetizer of Pistachio Encrusted Sausaged baked in a Brioche… just think of this as a Corn Dog on steroids.  Being in France during Beaujolais Nouveau season I enjoyed a bottle with a four course supper that was under 30€.  With a bottle of wine a meal for two can still come in under 100€.
When you're not eating in a restaurant you could stop by Les Halles Paul Bocuse – 102 Cours Lafayette.  A large covered market that will make you yearn for you kitchen back home.  There are several places to buy wine and pastries so it is unlikely you will leave empty handed.
Driving in France isn't as bad as people might think … that being said driving in the cities can be a little more stressful (even for someone who is used to driving on streets of Toronto).  The transit system in Lyon is fairly new, clean and covers the city well.  One of the easiest ways to get around Lyon is with the City Card.  It allows admission to many of the cities museums and unlimited access to transit the cost for one day is 19.80€ right now (22€ regular price).  I covered as much ground as I could in the day I was there.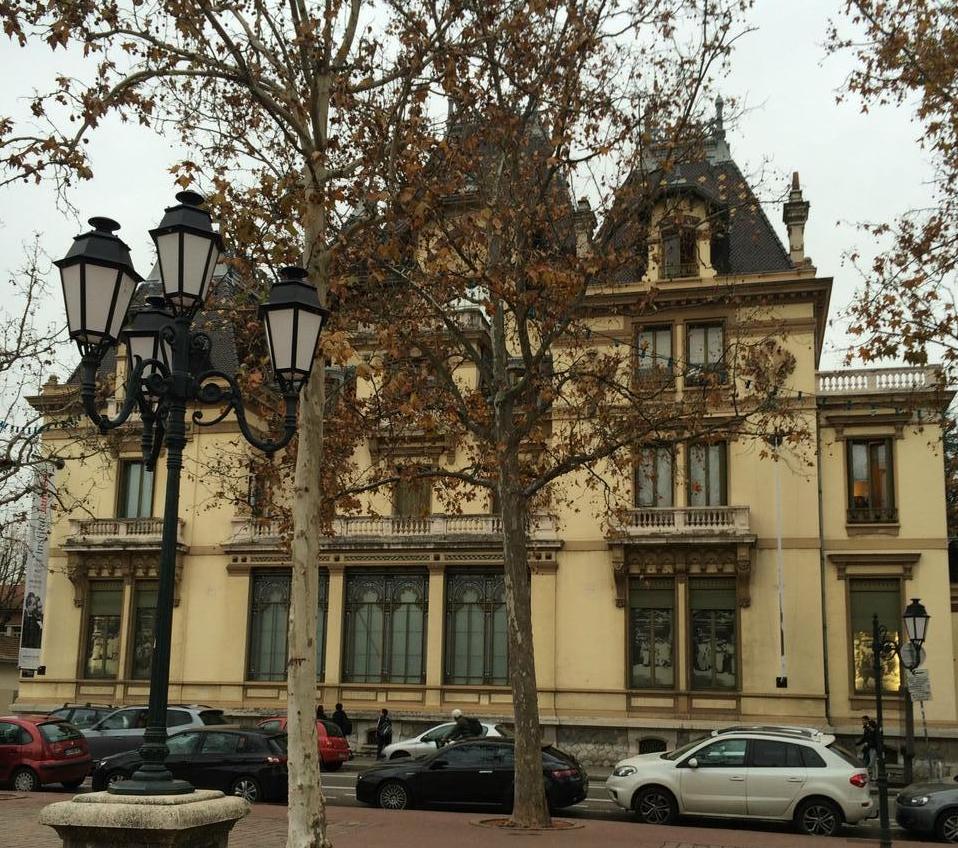 I visited the Institut Lumière – 25 Rue du Premier Film – a museum that celebrates the birth of cinema.  Cinema was invented by the Lumière brothers in the late 19th century in Lyon.  Admission to the Institut is included with the City Card.  It is remarkable to see both how far cinema has come in the past century but also what has remained the same.  I also can't resist sharing a photo of what may be the first "selfie" ever taken from 1896.
For the afternoon of my day in Lyon I got the opportunity to take a walking tour of Old Lyon.  We started the tour from the Basilica that overlooks the city.  Even in the haze of fall the view is stunning.  Looking at Lyon from the Basilica it is fascinating to watch a city become more modern as it moves away from the hill.  Old Lyon is dense with narrow alleys and roads.  Our tour guide introduced us to a french term that exists only in Lyon <<Trabouler>>.  The Traboules are essentially walkways that lead directly through courtyards and lobbies of apartment buildings in Old Lyon.  I wouldn't recommend trying to navigate the Traboules on your own but if you can hire a guide to help you out passing through some of the courtyards give you an intimate glimpse at some of the 300+ year old architecture in Old Lyon.
It's hard to believe that all of this happened over the course of 24 hours, but needless to say there was still a lot left to see.  I realize that this is mainly a wine and wine related blog … but if you ever end up in France to visit the wine regions you are going to end up in Lyon.  Planning a stopover for a day (or three) is well worth it.  I can't wait for my next visit.