2012 16 Mile Rebel Chardonnay – 2014 Huff Reserve Pinot Noir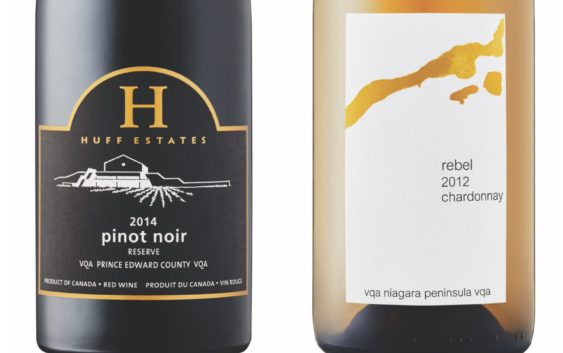 2012 16 Mile Rebel Chardonnay – Vintages 485243 – $19.95 – ****+ – If you haven't had a chance to taste the wines from 16 mile you're missing out. Their Chardonnay and Pinot Noir are some of the best buys in the province. This chardonnay balances nice orchard fruit with apples and peach on the nose. There is nice vanilla and woodsmoke on the mid palate but bright crisp acidity help keep this wine light on its feet. Pair this with roast chicken or turkey.
2014 Huff Reserve Pinot Noir – Vintages 489708 – ****½ – $35.00 – Two words about this wine before I go any further "Awww Yeah". The nose is soft and delicate Red Cherry with whispers of Violet buried under all that fruit. When the wine works its way over your palate the Cherry flavours dominate this wine. But when you work your way into the second … and your third sip subtle baking spice, hints of earthiness, and a hint of the violet notes linger for awhile. The finish is very clean with nice acidity. A wine like this presents a dilemma for the consumer… Do I enjoy this with food, perhaps a nice mushroom risotto or a piece of lamb… or do I enjoy this without food? There really isn't a wrong answer to this question.